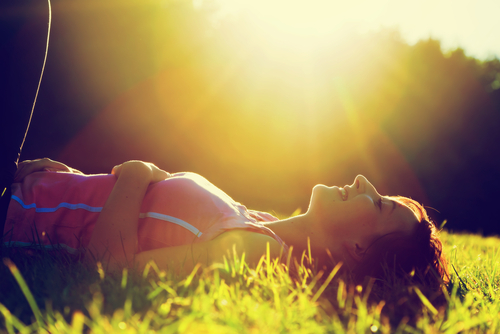 At the beginning of 2014, I was struggling with major financial problems and under a considerable amount of emotional stress. Combined with the daily 9-5 grind, two-hour commute, and the unhealthy work environment I had created for myself, it was taking a toll on my health and relationships. My routine of work, worry and work some more had become the status quo.
After weeks of mixing up my daily routine, I found four specific actions that turned my life around. Soon thereafter I left my industry of almost 20 years and begin to practice this new routine that led to joy in both my work and relationships.
I am now excited to wake up every day. I appreciate the possibilities and opportunities that exist. More importantly, my relationships with family and friends are deeper than ever.
Achieving sustained happiness is possible. But if you don't take the right actions daily, the result could be anything but. Develop a habit of incorporating specific practices that yield positive results.
If you are looking for happiness in relationships, work, or anything else, these four daily rituals will help you achieve it.
1. Be thankful
Have you ever noticed that the people who seem to be the least happy are those who constantly complain? It's true. I'm ashamed to say that I was that guy.
As a society, we tend to gravitate towards people who are appreciative and even more so, those who consistently show gratitude. Being thankful carries several benefits. This article "10 Reasons Why Gratitude Is Healthy" lists a number of them.
If you are not experiencing true happiness in life then take time daily to express gratitude for the things that you do have. Set aside a few minutes each day and reflect on the things you are grateful for. The benefits far outweigh the alternative. Happiness begins with gratefulness.
2. Keep a journal
Reflection and planning are two components that can make daily writing a joy. Yet another opportunity to express thanks.
The following quote by New York Times best-selling author, Tim Ferris, on his use of the Five Minute Journal, emphasizes the importance: "... one of the simplest ways that I have found to consistently ensure improving my well-being and happiness. Both in terms of achievement and actual measurable, quantifiable results."
Journaling also provides an outlet to express ideas and thoughts. Simply put, doing it daily has shown to increase happiness. Give it a try. You'll be happier from it.
3. Stay active
A few years ago, I stepped on the scale and realized that my sedentary lifestyle had led to obesity. I had filled out to almost 200 pounds. That may not seem like much but when you are only 5' 6", it's considerably obese.
My health had deteriorated to the point where my doctor considered putting me on high blood pressure medication and said that I was on the verge of developing Type 2 Diabetes. As my weight gained, my confidence and my happiness decreased.
Daily activity plays a significantly important role in physical, mental, and emotional health. If you are overweight it can lead to long-term unhappiness and even depression.
Once I made the decision to eat healthier combined with daily physical activity, I saw an immediate improvement in my health. An equal side effect was the joy that returned to my life.
Begin a daily ritual of performing some sort of physical activity. It doesn't have to be anything strenuous. A 20-minute daily walk not only makes your heart healthier, it will make your heart happier.
4. Meditate or Pray
Many can attest to the benefits of meditation. I myself have found solace through prayer on many occasions.
It's instinctively natural to consider prayer during times of difficulty, but there is so much more to gain by making it a normal part of your daily routine.
For me, it is a reminder that I don't need to worry myself about things in which I have no control. I simply do what I can and leave the rest to work itself out. This frees me up to experience more happiness and fulfillment.
You can experience happiness through a sense of peace that is only obtained through daily prayer or meditation.
You don't have to live without joy. True happiness can be yours by taking consistent action in a few areas. Incorporate these four daily rituals into your day and become a much happier you.
What daily routines do you practice? How have they benefited you?
-----------
HuffPost's GPS for the Soul app is based on two truths about human beings. First: We all have a centered place of wisdom, harmony and balance within us. Second: We're all going to veer away from that place, again and again and again. What we need is a great course-correcting mechanism -- a GPS for the Soul -- to help us find our way back to that centered place, from which everything is possible.
Because no one knows better than you what helps you de-stress and tap into that place of peace inside yourself, it's important for you to create your very own GPS guide -- a personalized collection of whatever helps you course-correct. Email us at GPS@huffingtonpost.com and we'll set you up with your very own HuffPost blogger account to share your guide on the site. If you're already a blogger, we encourage you to upload your personal guide today. We can't wait to see what you have to share.
-- This feed and its contents are the property of The Huffington Post, and use is subject to our terms. It may be used for personal consumption, but may not be distributed on a website.