It was this time of year that I was diagnosed, a few days before Christmas. I was 17, in my second year of college. I'd like to say I had the whole world ahead of me, but it wasn't until the moment my parents told me the diagnosis that I realized it. Three words, "you have cancer," and boom, there it was -- the whole world in front of me, just out of reach.
An old soul, but still just a child. My family and I spent that Christmas over 10 years ago with the knowledge that in a few days, my fight would begin. Worried, but confident. With more questions than answers and a bravery only naivety can offer, we fought and fought and fought. And we won. I learned more from those six months than any other time in my life about love, bliss, the source of peace, and what a true gift it is to exist.
My life's work is to now share what I learned to help all women, including cancer survivors, live happier, healthier, more fulfilling lives. I do this through my website, my new Lifestyle Guide and public speaking.
Most people ask me: "What was that like?" I think what they really want to know is what did I learn. They don't want the stories of the needles and hospital beds, so I'll spare you the details too, but I'll share these three essential, earth-shaking lessons I took with me after the battle.
4 Life Lessons Surviving Cancer Taught Me
That Peace is Always There For You
Fighting cancer remains the hardest thing I've ever done. Being in the hospital with other patients, some of whom knew they wouldn't win their battles, I came to see that peace is always there. No matter the circumstances, no matter the ugliness of the challenge before you, you always have the power to close your eyes, go deep inside, and find the calm and quiet within your own heart. Our inner peace does not run out or hide away when we're in crisis; it remains there within us, waiting to help whenever we need it. And by going deep inside and finding that peace, I was able to look out at the bigger picture, at the whole world waiting in front of me. It helped me overcome the fear of the present moment, like a surgery or biopsy, and remember what I was doing it for. It helped me experience joy and appreciate being, even during the hardest moments of the fight. Acting from that place of peace let me feel the love of my family and laugh with them, even as I was bald and weak and sick.
Now, back in normal life, it's surprisingly harder to go back into that place, to find the peace and to act from there. Just the everyday stresses get in the way, and make it harder to remember what matters most. Still, when I can close my eyes, go deep into my own heart, remember how brief life is, remember how lucky we all are to have made it even this far, the little stresses stop mattering so much, and I can just breathe and look out on the big, beautiful world I fought so hard to be a part of.

My parents and I playing with the wigs
That How You Feel is More Important Than How You Look
Truth be told, I actually liked being bald. I thought it was fun, and I had a great time with wigs of all colors. Some days, though, it wasn't that fun. Some days I just wanted to wake up and look like myself again. I wanted to walk into Target and not get so many stares. Some days I didn't want to talk about cancer, but when you're bald, it's hard to keep your cancer private. It was the same with what I wore; when you're doing chemo for eight hours, it's essential that you wear something comfortable but that also makes you feel good. For me, pink sweatpants did the trick.
Now, in adulthood, I enjoy the way that clothes and hair allow me to express myself, but I don't take them so seriously. I don't take jobs, or where my income comes from, as seriously either. I don't take labels, car models, flashy handbags, or anything else as seriously. To a certain degree, the way things look just isn't as important, because I'd much rather evaluate things by how they make me feel. For example I became a writer, despite that it's not as lucrative as other careers, because it's my greatest passion. I wear loud dresses and bright lipstick because it makes me feel like myself.
As I said in a recent article about the habits of happy women, one of the best things you can do for yourself on a daily basis is ask, "How do I feel about myself? About my actions and choices?" A simple question with an honest answer can offer a lot of guidance and clarity on what matters most to you, and whether you are offering your authentic self to the world.
I'm ashamed to admit this, but when it comes to my body, this is especially true. Even after all the amazing, miraculous things my body has done -- surviving obviously being at the top of the list -- I still find ways to shame it. I find marks I don't like, fat where I think there shouldn't be. Oh the struggles women go through because of their bodies!
Here's the remedy: It's certainly a challenge, I won't pretend its not, but I have to remember the power to remind myself, "You almost didn't have a body at all, Rachael. You're lucky to have this one, it's still serving you. You better start appreciating it before it's taken away again, this time for good." Thats when I remember this body is all mine, I'm in charge of taking care of it. I remember how special and beautiful it is, how it was forged by the women of generations before me. How it doesn't look like a magazine, because it's not a magazine body, edited and fake and one --dimensional. It's a living, breathing, fierce, surviving, thriving body. I'm so lucky to have it.
That the Big Questions Are Worth Asking
One of the things I didn't want to my fight to include was a lack of communication. I'd seen other people fight cancer, and I always felt that there was a certain amount of silence to it. It felt like we were all scared to say or ask certain things. I didn't want my fight to be like that. I wanted to talk openly about how we were experiencing it, and I wanted to ask big questions along the way. What I realized is that the big questions are always worth asking, even if the answer isn't a happy one.
Today, I remain true to that promise. I believe only in asking the big questions can we find our true path. What do I really want? What do I believe in? Am I happy? What do I want to leave behind? Am I living up to my full potential, or am I playing scared? These kinds of questions make us uncomfortable, and they should! They demand that we expand out of our current comfort zone, and reach further into our own capabilities. They require that we take responsibility, that we make changes, that we face ourselves, the good and bad in ourselves. The big questions might be scary, they might make you face some things you don't want to own up to, and they might break your heart. But only in answering them can you be free.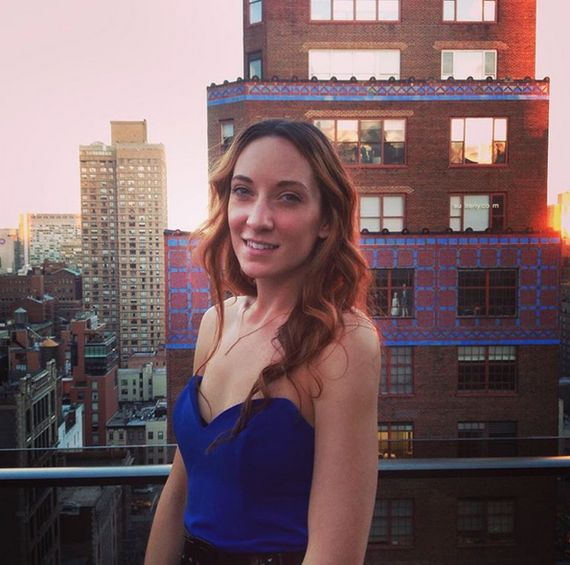 Present day, hair and all
That Love Will Always Win if You Let It
Before we started chemo, I refused to let my fight be a dark time of fear and silence. My parents and I committed to making this challenge a time of light and love, in which we came together rather than let fear take over us. For the most part we did, but I have to admit there were times I gave in. There were a few moments I'd break down and want to scream because it wasn't fair, and it wasn't fair, but those feelings didn't help me or empower me. No one can answer to you or offer fairness when it comes to cancer, it's just something you have to forgive and do your best to move on from. During a night when I was particularly sick, my mother spent all night awake with me, and I couldn't help but think how unfair this was, not for me but for her. To have to watch her child be so sick, to sacrifice an entire night of sleep to hold up her nearly adult daughter over a toilet while I vomited. It wasn't fair, and it gave me such anger, as weak as I was.
But then, the sun rose through the bathroom window, just as the nausea finally started to pass, and I had never felt so grateful to see the sun bring a new day forward. I was so in love with life for letting me make it through that night, my love forgave all the anger I'd felt. I was so in love with my mother for saving me and helping me, and I could see that her love for me had already forgiven all the anger she had for the unfairness, the cancer, even before it had begun.
We are very lucky creatures, because we humans are absolutely made of love and we are in possession of an abundant supply of love. No matter how angry or resentful or confused and scared we are, there is always love within us. The moment we start to give out that love is the moment our anger and fear start to die. Love is greater, and the moment we chose love, we are granted forgiveness and peace and ultimately bliss. It's all we need, and it's always there for us.
So now, when I have a fight with my partner or the world feels "unfair" again, I choose love. I give it out in as many directions as I can. I stop the moment, take a pause, look around, and realize that my love for being alive, for everyone around me, is greater than the fear or anger I'm trying to get through. Love always wins if you let it.
I'd like to offer a very, very special thank you to my family, who I'm lucky to celebrate another Christmas with this year. Mom, Dad, Ryan, Kevin and Kim, thank you for saving my life. Merry Christmas, I love you all.
Rachael is a writer, blogger, cancer survivor and the author of HerAfter.com, a women's site about conscious and stylish living. After years as a fashion journalist, she now writes women's lifestyle articles about life, love, style, and thriving after surviving not just cancer, but all of life's big battles. Catch up with her on Twitter ( @RachaelYahne ) and read more of her work on her website, and in her new ebook, Her Happier, Healthier After -- A Women's Guide to Building Happiness and Self-Esteem
-- This feed and its contents are the property of The Huffington Post, and use is subject to our terms. It may be used for personal consumption, but may not be distributed on a website.
Source: Healthy Living Huffington Post