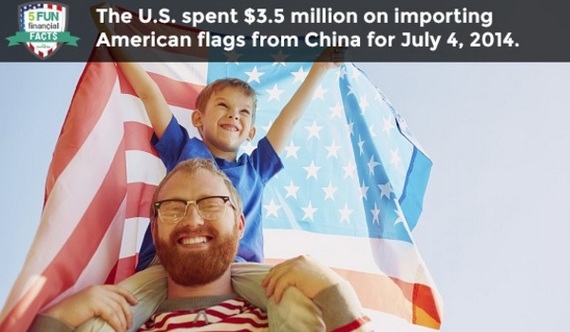 1. The U.S. spent $3.5 million on importing American flags from China for July 4, 2014.
2. U.S. retailers sold fireworks worth $369.4 million in 2014.
3. Americans will spend an estimated $6.8 billion on food for the July 4 holiday weekend in 2016
4. A toast to America! More than 68 million cases of beer will be sold over the July 4 holiday.
5. Joey Chestnut holds the all-time Nathan's Hot Dog Eating Contest record, which he set 7/4/2013 by taking down 69 hot dogs in ten minutes.
This article was provided by moneytips.com.
To Read More From MoneyTips:
What The Founding Fathers Would Say About Today's Economy
Baby Boomers Focused More on Weight than Wallets
Good Times at the Gas Pumps
Photos ©iStock.com/mediaphotos
-- This feed and its contents are the property of The Huffington Post, and use is subject to our terms. It may be used for personal consumption, but may not be distributed on a website.
Source: Elder Care Huffington Post