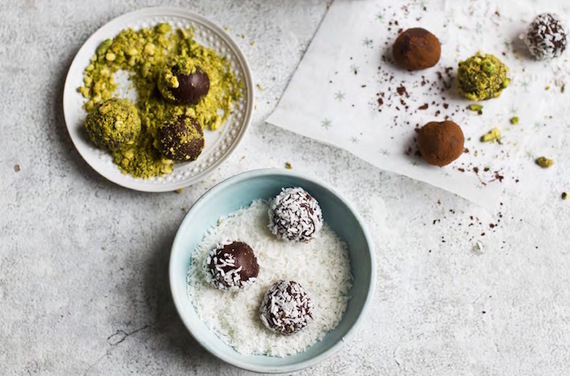 By Erin Hanafy for Well+GOOD
Going dairy-free doesn't mean you have to go full-on vegan, but you wouldn't know it by shopping for cookbooks--many lump dairy-free in with meat-free, gluten-free, everything-free. But for those who've embraced a dairy-free life but don't want to cut out everything else, we've found you a champion: Katy Salter.
RELATED: 5 Delicious Vegan Recipes That Will Be Your New Go-Tos
As a food writer in London, Salter followed the "go everywhere, eat everything" credo of the profession for years before health issues inspired her to go dairy-free. Immediately, she felt healthier and happier--but her gastro-world got a lot smaller. So she took what she'd learned from years covering top chefs and developed her own recipes, now compiled in a new cookbook, Dairy-Free Delicious.
"This book is specifically aimed at people who can't or won't eat dairy, rather than a generalist 'free-from' book," Salter explains.
In addition to the (rich and tasty) recipes, she also provides super handy reference sections on putting together a dairy-free pantry, dining out, and shopping, including tips on how to read labels to avoid hidden dairy ingredients in bread, chips, salad dressings, and even--gulp--wine. (Milk protein is often used in the winemaking process, but vegan and kosher wines are milk-free, she explains.)
So, toast these sophisticated recipes with a dairy-free pinot noir (or perhaps a coconut milk flat white)--and enjoy the hard-won healthy wisdom from Salter's previous, not-so-healthy lifestyle. Cheers!
Serves 4 to 6, depending on the size of your glasses
Ingredients
1 3/4 cups whole rolled oats
2 Tbsp slivered almonds, chopped
2 Tbsp lemon juice
Scant 1 cup water
2/3 cup coconut yogurt
1 tsp maple syrup or honey (optional)
Granola
Fresh blueberries
Fresh strawberries, sliced
1 tall sundae/knickerbocker glory glass per person
There aren't many dishes served in sundae glasses that can be legitimately called healthy, but here's one. I got the idea for these from a sweet, 1950s-style café in Melbourne, where they serve Bircher and blackberries in tall glasses, to be eaten with a long sundae spoon and washed down with a strong coffee.
The night before, mix the oats and slivered almonds together with the lemon juice and water in a large bowl. Cover and leave in the refrigerator.
The next morning, stir the coconut yogurt into the mixture to make the Bircher. Sweeten with the maple syrup or honey, if you like, but remember that the granola and berries will both bring sweetness to the dish.
Make sundaes by layering alternate layers of Bircher muesli, granola, and berries in each sundae glass. Top with a final layer of berries and a scattering of slivered almonds, and eat with long sundae spoons.
Serves 2 as a main or 4 as a side dish
Ingredients
2 1/2 Tbsp cooking oil
7 ounces firm tofu, drained and dried, then cut into 3/4-inch cubes
14 ounces baby leaf spinach
2 round shallots, finely diced
Thumb-sized piece of ginger, peeled and minced
1 garlic clove, minced
1 tsp ground coriander
1/2 tsp ground cumin
1/2 tsp garam masala
1/2 tsp cayenne pepper
4 Tbsp water
Scant 1/4 cup coconut milk
Sea salt
Saag paneer is made with pureed spinach and cubes of firm, mild paneer cheese. It's also known as palak paneer as the dish originates from the Punjab where palak means spinach (saag can refer to other leafy greens). Either way, it's delicious but no friend of the dairy-free. Luckily, firm tofu is a good substitute for paneer, having a similar texture. Fry it first to get it golden and crisp on the outside.
Heat 2 tablespoons of the oil in a heavy-bottom skillet over medium-high heat. Add the tofu and fry until golden, for about 10 minutes. Transfer the tofu to a plate lined with paper towels.
Meanwhile, cook the spinach in a pan of boiling water until wilted, for about 3 minutes. Drain well and then puree in a food processor. Leave to one side.
Return the skillet that you cooked the tofu in to medium heat and add the remaining 1/ 2 tablespoon of oil. Add the shallots and fry for a few minutes until softened. Add the ginger and garlic and fry for another 1 minute. Add the ground spices and fry for about 1 minute, stirring with a wooden spoon, just until they have released their fragrance.
Add the pureed spinach and the water. Bring to a boil, then simmer for about 3 minutes. Stir the tofu into the mixture before adding the coconut milk and stirring again. Cook for 2 more minutes until the tofu is piping hot. Add salt to taste and serve immediately.
Keep reading to see three more delicious dairy-free recipes...
(Photos: Dairy-Free Delicious)
-- This feed and its contents are the property of The Huffington Post, and use is subject to our terms. It may be used for personal consumption, but may not be distributed on a website.