We baby proof our house. We make our kids wear helmets. We keep our kids in car seats long after they've out grown them. We prepare for every possibility. Every possibility except the one that can rock us to the core. The unimaginable. Stranger danger. Only sometimes it's not strangers and kids don't always know they are in danger.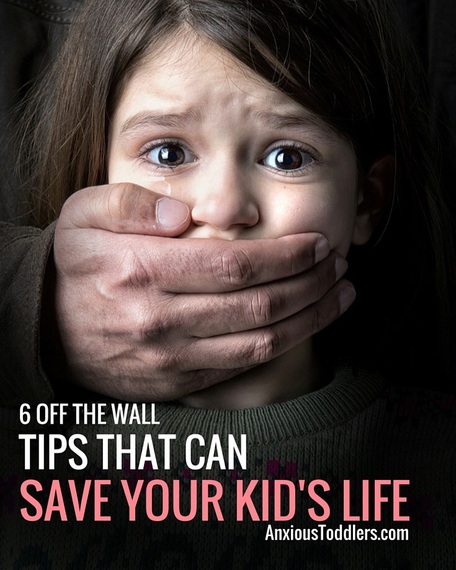 The likelihood of this happening to a child is thankfully rare. But, I am not into gambling -- especially when it comes to my children. In less than 30 minutes -- you can give your child enough information to save their life.
But first, some basic facts to stew over.
Stranger abductions are rare. According to the National Center for Missing & Exploited Children your child is much more likely to be sexually exploited or abused by someone they know. That's why teaching stranger danger simply doesn't cut it.
Tell your child that no one should hurt them or touch their private parts - even people they know. Teach your child to notice the warning signs of sexual abuse. Learn how to spot when someone is grooming your child for abuse.
Now that I got that off my chest -- let's get back to those off the wall tips.
First let's start off with what you can do.
THROW OUT YOUR PERSONALIZED BACKPACKS, BARRETTES AND LUNCH BOXES
When a stranger knows your child's name, your child is much more likely to trust them. Don't make it easy for a stranger by plastering your child's name all over their body. Every morning as I drive my kids to school, I see these two very young girls walking to school on their own. From down the street I can make out both of their glittery names on their backpacks.
HAVING A CODE WORK IS USEFUL IN MANY SCENARIOS
Make up a family code word. Try not to use a common word -- but don't pick something that is so bizarre it is hard to use naturally. You can use the code word in the following ways:
If you send someone to pick up your child -- they should know the code word.
If your child is at a friend's house and something is making them feel unsafe, they can call you and use the code word.
If you are in public and there is a safety threat -- you can use the word to warn your children.
Okay -- let's move on to the kids.
First the obvious. Tell your child that anyone your child doesn't know is a stranger. Ask them what they think a stranger looks like and then correct any misperceptions. Let them know that no matter what a stranger says, they should never leave or get into a car with them. Role play these ideas with your kids.
Now for the less obvious suggestions...
IF FOLLOWED, RUN IN THE OPPOSITE DIRECTION OF THE CAR
Tell your child that if they are being followed or chased start running in the opposite direction of the car. This can buy them some time as the car turns around.
WHEN IN TROUBLE -- LOOK FOR A MOM WITH KIDS
Desperate times call for desperate measures. Tell your child that if they are lost or are feeling unsafe find a mom with kids. Often a police officer or a friendly shop clerk are not at your child's disposal. Helping them delineate who might be safe beforehand can save critical seconds when they are in danger.
TEACH YOUR CHILDREN TO SCREAM, "I DON'T KNOW WHO YOU ARE!"
How many times have you seen a kid struggling in an adult's arms and walked past them? Kids have tantrums all the time and we are immune to them. Teach your child to scream out things that would alarm others. Some good ones might be:
Who are you? Help!
Leave me alone! I don't know you!
Where's my mom and dad? Help!
TEACH YOUR KIDS TO BE DESTRUCTIVE IN ORDER TO DRAW ATTENTION
Tell your child that if a stranger tries to take them, all manners are out the window. Tell them that they are allowed to hit, scream and make a scene. Give them some suggestions. If they are in a store, tell them to knock things off the shelf. Knocking things over will get the attention of more people who will then take a closer look at what is going on.
You might think all this talk about doom and gloom is unnecessary. You might think that the chances are so small it isn't even worth talking about. You are right. The chances are small. And perhaps it isn't worth talking about.
But, what I can teach my kids in 30 minutes might make the difference between life and death. And for that it's worth it.
Have safety tips of your own. I would love to hear them! Share in the comments below. Know someone who can benefit from this information? Pass it on.
Want to talk to your kids about body safety, but don't know how to start? Take my parenting video lessons on body safety and signs of child grooming.
-- This feed and its contents are the property of The Huffington Post, and use is subject to our terms. It may be used for personal consumption, but may not be distributed on a website.