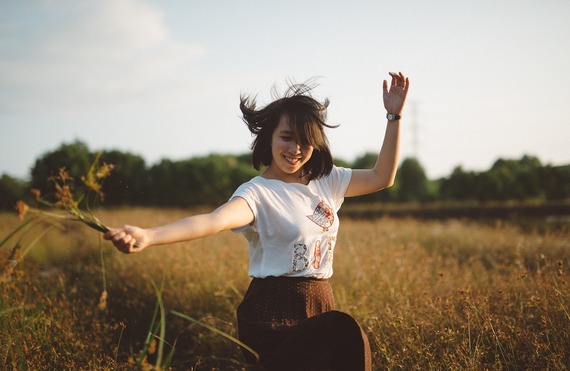 Happiness is a process. In the past months, I have wasted hours of my precious life trying to understand the root of my seasonal unhappiness. I was on the road doing what I love, but I wasn't content. My melancholic attitude became annoying and after some reflection it hit me. I allowed society's idea of happiness to overpower my own.
Most people are in the pursuit of happiness. Every day we subconsciously engage in activities or people that can increase or get us closer to that joy. Conventional wisdom makes us believe that happiness is a huge blob of energy we get to wear when we do X, Y, or Z., but that is false.
Happiness must be learned and embraced daily. It is an inner state of contentment you cultivate by doing the small ordinary things that bring you joy. Eventually, it adds up. Here are six unconventional ways to have happier days.
1. Focus on the little happy
If you're anything like me, it's easy to get lost in the future vision and not tend to the daily tasks that get you there. Everyone seems to be in a hurry to get to the big happy, which may include a book deal, a new job, a degree, marriage or starting a family. Slow down. Keep your big happy in mind because it's your overall goal, but chase the little happy on a daily basis. Learn to view the small mundane tasks that you must practice daily as the little happy.
2. Accomplish one thing in your happy must-do-list
Every day when I wake up, I spend at least half an hour writing in my journal. It's my time to organize my thoughts and think of how I want to spend my time. When I don't journal my entire mood changes, and it interrupts the flow of my day. What must you do on a daily basis to feel energized and happier? Some ideas of "happy must do" include working out, going for a walk, creating something, writing or reading a book. Find that one thing that makes you happy and include it in your daily routine.
3. Stop saying could, should, and would
We all have this perceived ideal we want to reach. When we start measuring the distance between where we are and this standard- we become unhappy. Having repeated conversations with could, should and would is a sign of perfectionism and false expectations. Every time you use these words you are telling yourself that you don't have it right and therefore, aren't happy. Stop thinking your life needs to be somewhere it's not. The grass isn't greener on the other side, but where it gets watered.
4. Give your body what it needs
Our bodies are wiser than we think. It will always tell you the truth. At times, your body may need a nap or it may crave physical activity. Sometimes it needs alone time or social interaction. Learn to listen to your body and give it what it needs. Those moments of paying attention to it can make all the difference in your day.
5. Say "No" more often
As much as I plan my day, there is always a curve ball thrown my way. This disturbance may be a random phone call I wasn't anticipating, an invitation to something I'm not interested in, an e-mail with questions I can't answer or someone who needs an "urgent" favor. Many times they are distractions that can suck you in and make your day go in a different direction. Say no to things and people that drain your energy. One of my online mentors, Marie Forleo, says: "If it's not scheduled, it's not real." Make this your motto.
6. Eliminate complaints
Complaining is a sign of an ungrateful heart. When all you focus on is what's wrong, then you become unhappy. Instead of getting mad because things are not going your way or people aren't acting like you want, think of what is working. Meditate on what went well in your day and what you're thankful for before going to bed each night.
Happiness. We chase it, abuse it, neglect it, and are never quite satisfied with it. Having happier days starts with changing the way you think about happiness. It's embracing it in the mundane daily things we don't think about that make the difference. If we can achieve daily happiness, then mastering it on a weekly, monthly, and yearly basis becomes reality. Remember, happiness is a set of appetizers, not the final meal. Take it in bite sizes.
-- This feed and its contents are the property of The Huffington Post, and use is subject to our terms. It may be used for personal consumption, but may not be distributed on a website.