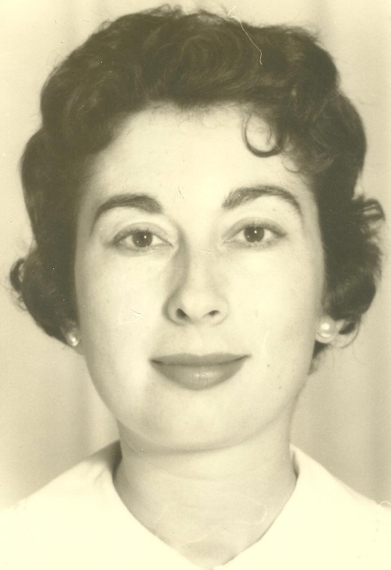 Margaret Tobin Swiss in 1952
Alzheimer's caregiving is the toughest job I've ever known but it also vividly distills what's really important in life. For five and a half years, I cared for my mother, Peg Swiss, as advanced Alzheimer's tightened its grip on her brain. She passed away on Christmas Eve one year ago. To honor her memory, I wrote about some of the lessons I wish I had known when her Alzheimer's journey began. I donated this book of stories to a fundraiser for the non-profit Alzheimer's Support Center of Cape Cod. Over the next few weeks, I'll share stories that I hope will offer encouragement and a healthy dose of humor for the 15.7 million Americans who care for a loved one with Alzheimer's.
Sometimes there's nothing you can do but march to that different drummer we always hear about. Picture opening your window to enjoy the morning air and hearing the same refrain every single day: a cheery little ditty about murdering a hapless bugler. It would be the song our understanding neighbors would be treated to for eight months straight.
For the last year of my Mom's life, it took two of us to care for her. Fortunately, my partner Digney is a musician and generally works at night. He administered Peg's morning meds, made her breakfast and lunch, and put together a modest exercise program to keep her moving. He often accompanied their activities with wacky songs that he composed on the spot. To make our morning routine run smoothly, he awakened Peg and got her sitting up in bed while I summoned the courage for yet another adult undergarment change. Their day began with a chant Digney learned as a Boy Scout: "You got to get up, you got to get up, you got to get up this morning." It would always bring a smile to my mother's face.
After a few weeks of hearing this chant, Peg, out of the blue, broke out in song and added some additional lyrics: "Someday I'm going to murder the bugler. Someday they're going to find him dead. I'll amputate his revile and step upon it heavily..." Our jaws dropped open at this unexpected serenade from my Mom who had always been quite serious and rather restrained.
At first, we attributed these seemingly madcap lyrics to Peg's diminished abilities. Boy, were we mistaken. An Internet search quickly revealed the source. Peg had recalled the verses from the Irving Berlin song "Oh! How I Hate to Get Up in the Morning" which Berlin himself performed in the popular 1943 film This is the Army. Needless to say, we were floored. This silly song had triggered a distant, yet joyfully accurate, memory for Peg. We learned that music can reach the soul when most of the other senses have abandoned us. So on the last day of my mother's life, guitar in hand, Digney sang every single song he knew, including the special tune about an exuberant bugler that Peg had taught us. It reminded us that there's more left in the deep recesses of our experiences than we can ever imagine.
-- This feed and its contents are the property of The Huffington Post, and use is subject to our terms. It may be used for personal consumption, but may not be distributed on a website.