For many seniors, the pain of arthritis is a daily occurrence. 
In fact, the Centers for Disease Control and Prevention reports that half of all people over the age of 65 have had some form of diagnosed arthritis. This unpleasant condition causes pain and discomfort in joints, making mobility a challenge for the people who have it. Treatment options can range from an over-the-counter pain reliever to invasive surgeries to repair or replace major joints.
So, what does arthritis is the U.S. look like by the numbers?
54.4 million people are affected
According to the CDC, more than 54 million adults in the U.S. have a type of arthritis. The majority of those are aged 65 or older, but as many as 7 percent of all 18 to 44-year-olds have this condition as well. Though rare in children, it's not unheard of - as many as 300,000 people under the age of 16 are living with arthritis.
23 percent of overweight adults have arthritis
There are many contributing factors that make some people more susceptible to developing it than others - age, lifestyle, medical conditions and weight can all play a role. People with higher weights are more likely to experience the effects of arthritis - while only 16 percent of normal or underweight people report arthritis, 23 percent of overweight people have. The number jumps even higher for the obese, with 31 percent of obese people reporting the condition.
31 million people have osteoarthritis
Osteoarthritis is the most common form of the condition. It's caused by bones rubbing together at the joints where cartilage has been eroded, typically as a result of age. The Arthritis Foundation reports that 31 million people in the U.S. have osteoarthritis. Another 1.5 million report rheumatoid arthritis, an autoimmune disease that attacks healthy joints and causes painful inflammation. All told, there are more than 100 different forms of arthritis, including fibromyalgia, gout, lupus and psoriatic arthritis, which affects people with the psoriasis skin condition.
Arthritis is the No. 1 cause of disability in the U.S.
The Arthritis Foundation reports that 23.7 million adults say arthritis limits their mobility. The pain and swelling that takes place in the joints can make it hard for them to move. A woman who once loved to knit but now has arthritic fingers will struggle to keep up with her hobby. A man who could walk and run with ease in his youth will limited by the pain in arthritic knees.
That doesn't mean that seniors who have arthritis should stop being active, however. While some kinds of motion can exacerbate symptoms, exercises that build up the muscles around the joints can actually work to reduce pain, states the Mayo Clinic. Stretching, range of motion and strength-training workouts typically yield the best results. Seniors who have arthritis should discuss the conditions with their doctor to determine if there are activities that would benefit them.
49 percent of adults with heart disease have arthritis
Arthritis is often comorbid with other health conditions. The Arthritis Foundation states that 49 percent of adults with heart disease have some form of arthritis, as does 47 percent of adults who have diabetes and 44 percent of adults who have hypertension. These combinations can make it even more difficult for seniors to get the amount of exercise they need to stay healthy. As such, it's important for seniors to mention their arthritis when discussing treatment options for other conditions to ensure there aren't any conflicts between remedies for either.
20 million people lose work because of osteoarthritis
The Arthritis Foundation reports that osteoarthritis is the top cause of work loss in the U.S., impacting more than 20 million people. The economic burden of this is a loss of more than $100 billion each year.
700,000 cases of osteoarthritis-related knee injuries
The pain of arthritis isn't just limited to the direct affects of the condition itself - arthritis can weaken the joints and make people more susceptible to additional injuries. Knee injuries top the list with 700,000 cases reported each year as a result of osteoarthritis.
658,000 Americans need knee surgery each year to treat osteoarthritis
In the late stages of arthritis, surgery may be the only option for treatment. Americans report 658,000 cases of knee surgery each year to combat late-stage osteoarthritis.
In 2009, hip and knee replacements costs $42.3 billion
More than 904,900 knee or hip replacement surgeries took place in 2009 to treat arthritis or injuries caused by arthritis, for a total cost of over $42.3 billion.
Arthritis costs the state of California $12.1 billion annually
California takes the hardest financial hit from arthritis costs at more than $12.1 billion, the CDC reports. New York, Texas and Pennsylvania round out the top five, while Vermont, North Dakota, Alaska and Wyoming have the lowest costs. Washington, D.C. is the least financially impacted by arthritis at $226 million each year. Treatment options may include nonsteroidal anti-inflammatory drugs, topical ointments, corticosteroids injections, physical therapy, surgery, acupuncture and massage.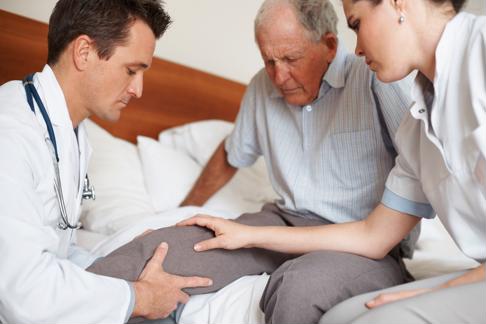 But West Virginia has the highest rate of arthritis overall
Despite the fact that California spends the most on arthritis, West Virginia actually has the highest rates with 33.6 percent of adults affected. Hawaii has the lowest numbers of people with arthritis at only 17.2 percent of its adult population.
26 percent of woman report a form of arthritis
While 26 percent of woman have had some type of arthritis diagnose, only 19.1 percent of men have been diagnosed with the condition.
Doctors predict a 49-percent increase in cases of arthritis by 2040
As the general population grows older, doctors predict that more cases of arthritis will arise. The CDC reports that by the year 2040, as many as 78 million adults in the U.S. will have a type of arthritis, affecting 26 percent of all adults aged 18 or older. That's a 49 percent increase!
Source: Sunrise Senior Living