I was procrastinating on Facebook when I came across a friend's status update that left me speechless: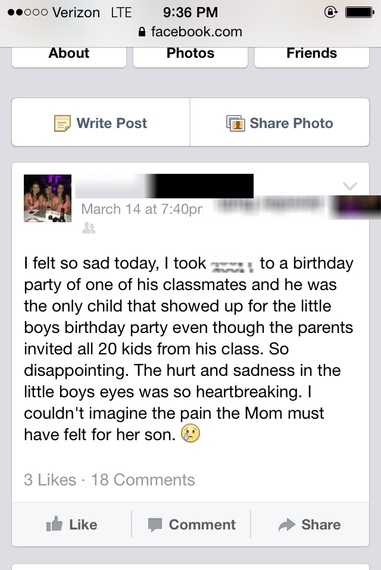 A comment in the thread indicated 14 of the birthday boy's classmates RSVP'd they were attending the party, but only one actually showed up.
I blame this on the parents. It's doubtful the folks of the 13 kids who failed to attend had legitimate emergencies that would warrant blowing off an event they already committed to.
And what about calling, emailing, or texting the child's parents ahead of time to let them know they had to cancel?
Until I had children of my own, I never fully appreciated the amount of time and money involved in throwing a party. I imagined a situation where the birthday boy was counting down the minutes until his friends came to his party, only to have one person show up. (And thank God for that one person!)
Sure, there were likely other things these parents would have rather been doing than sitting at a child's birthday party, but couldn't they have just sucked it up for two hours and honored their commitment? My heart goes out to the birthday boy and his parents, which my friend described as "devastated." I hope I never have to see my children experience that type of heartbreak and disappointment, even though it's probably inevitable.
Sure, there are worse things in life than having a party full of no-shows.
Cancer.
Catastrophic accidents.
Not having food, shelter, or water.
However, anybody who thinks the birthday boy should "shake it off" because disappointment is a part of life needs to consider how they would feel if the boy was their child and they were the ones who had to see the pain in his eyes.
What made reading this status update more difficult is that I've been guilty of RSVPing to events and subsequently being unable to attend. This happens rarely and usually involves weekday girls' nights where the event seemed like a great idea when I initially received the invitation and RSVP'd. By the time it rolled around a couple weeks later, I was exhausted from working and traveling all day, had a screaming (and occasionally sick) child to feed, bathe, and put to bed, and the last thing I felt like doing was getting gussied up and being social. And when I sent that horrible text to the host(ess), "Hey, I'm so sorry but I had a crazy day and am not going to be able to make it tonight," I am usually thinking, "It won't matter if I don't go because I saw on the Evite that 20 other girls will be there." Well... what would happen if the rest of those 20 girls did the same thing? Or even 10 of them? In reality, during these scenarios I'm thinking about myself and not the person it might be negatively impacting: the host!
Let's put the RSVP issue aside and move onto attending events that aren't necessarily appealing (or convenient) to us, but are important to the person of honor.
The bachelorette party for the girl who attended all of your events when you were the bride-to-be.
The baby shower for the woman who hosted your shower when it was your turn to be celebrated.
The awards luncheon (all the away across town) for the friend who worked her tail off toward the accomplishment that she's now being honored.
It's impossible to attend everything we are invited to, and sometimes there are genuine conflicts but, overall, who are we considering when we accept or decline? Ourselves, or the person being celebrated? Shouldn't we want to make other people feel special, the same way others have made us feel special?
We live in a world that teaches us to think solely about ourselves: "What do I want to do today?" "What feels like the best decision for me?" "I have to put myself first."
Me, me, me.
To a degree, it's important to consider our own best interests when making decisions, but where do we draw the line? I don't know the answer to this question. We can be so absorbed with ourselves that we don't think about how our seemingly harmless decisions can hurt somebody else. What would happen if the world taught us to base our decisions on love and service for others? What would happen if we universally had that attitude?
Perhaps the only good thing to come out of this horrible birthday party story is that anybody who hears about it might second guess the next time they consider blowing off a commitment.
I know I will.
This article originally appeared on The Champagne Supernova blog. Visit www.thechampagnesupernova.com for more from Jennifer Burby.
-- This feed and its contents are the property of The Huffington Post, and use is subject to our terms. It may be used for personal consumption, but may not be distributed on a website.