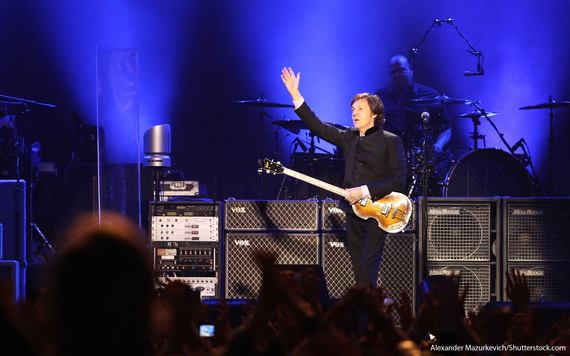 By Laura Woods, Contributor
Desert Trip, the classic rock version of Coachella, is coming to Indio, Calif. Oct. 7-9. Organized by the people behind Coachella, many of classic rock's biggest names are slated to perform at the event, including Paul McCartney and the Rolling Stones.
Desert Trip tickets aren't cheap, carrying a general admission price tag of $399 for the weekend. Find out who's performing and if you can afford to attend.
Visit GOBankingRates for the latest finance news and shopping deals >>>
Desert Trip Lineup
A classic rock fan's dream come true, Desert Trip offers the chance to see some of the most iconic musical acts perform live.
Nicknamed Oldchella and Woodstock 2016, Desert Trip will feature the Rolling Stones and Bob Dylan Friday night, followed by Paul McCartney and Neil Young on Saturday. Roger Waters and The Who will close out the event Sunday.
Related: 20 Things Baby Boomers Can Save Money On in 2016
Are Desert Trip Tickets Worth the Cost?
Weekend passes for Desert Trip are selling for the same as Coachella: $399. Desert Trip does offer one-day passes for $199, however, giving you the chance to save while seeing some of your favorite artists.
Other tiers of Desert Trip passes for the weekend include reserved floor passes, costing $699, $999 and $1,599. Grandstand tickets cost $999 and $1,599, and standing pit passes are going for $1,599.
The exorbitant cost to attend Desert Trip is likely caused by the immense performance fees paid to each of the headlining acts, which is rumored to be as much as $7 million each, reported entertainment news hub Ultimate Classic Rock.
Cost to Watch Paul McCartney and Others Live
If you're only interested in seeing one or two of the acts at Desert Trip, you might be able to save money by watching your favorite artists separately.
Tickets for the Paul McCartney tour "One On One" average just $161.77, according to Pollstar, which tracks the cost of concert tickets. Similarly, tickets to see the Rolling Stones live have averaged $164.72 over the past 12 months, with tickets to see Neil Young averaging $70.78.
Of course, attending Desert Trip is a once-in-a-lifetime experience, so if you're into all of the headliners and don't mind paying top dollar to attend, the festival is sure to leave you with lasting memories. Desert Trip tickets go on sale May 9 at 10 a.m. PST at DesertTrip.com.

This article, Desert Trip Tickets Are $399 For the Weekend: Is It Worth the Cost?, originally appeared on GOBankingRates.com.
More from GOBankingRates:
-- This feed and its contents are the property of The Huffington Post, and use is subject to our terms. It may be used for personal consumption, but may not be distributed on a website.
Source: Elder Care Huffington Post