Fifty years ago I spent my summers at a sailing camp run by the Greater Providence YMCA. Having failed as a counselor-in-training, I was moved into an administrative position (running the camp's office and store).
However, one thing made me stand out from other members of the top staff. Whenever one of them stood up to make an announcement to the 225 campers and staff seated in the dining hall, they were met with curious attention. Whenever I stood up to make an announcement, I was met with a thunderous chorus of "George is fat and ugly! George is gross and cheap!"
The campers loved it. Realizing there was no way to stop them (and that they would all return home in a few weeks), I chose the path of least resistance. I simply got used to it.
Over the decades it's become easier for me to see how we attempt to separate our society into peculiar subgroups of the general population.
Some people only want to know if a person is considered Hot or Not.

For years, there was no awareness of what it meant to be a transsexual, hermaphrodite, or to suffer from gender dysphoria (until very recently, everyone was assumed to be either male or female).

Some people are hairy while others have smooth skin.

Some people have perfect pitch while others are tone deaf.

Gay men have become experts at sorting people they know into categories such as "tops and bottoms," "daddies and twinks," and "chubs and chasers."
One of the newest categories in our culture is determining whether or not a person is empathic. Whether that means someone who instinctively reaches out to a person who is in pain -- or someone who feels compelled to take action on another's behalf -- empathy is a key factor which determines if, how, and when many relationships survive. In his lyrics for "Take The Moment" (from 1965's Do I Hear A Waltz?) Stephen Sondheim wrote:
"Take the moment, let it happen.
Hug the moment, make it last.
Hold the feeling for the moment
Or the moment will have passed.

All the noises buzzing in your head
Warning you to wait. What for?
Don't listen.

Let it happen, take the moment
Make the moment many moments more.
Make for us a thousand more."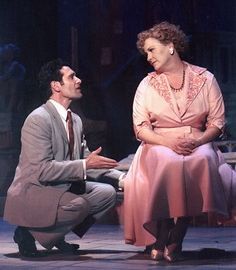 Sergio Franchi and Elizabeth Allen in a
scene from 1965's Do I Hear A Waltz?
Like Leona Samish, many women spend years nursing psychic wounds and carrying a heavy load of emotional baggage wherever they go. Whether they suffer from a lack of self esteem due to body issues or have been victims of misogyny, rape, and/or domestic violence, trying to make it from one day to another can be a daunting challenge.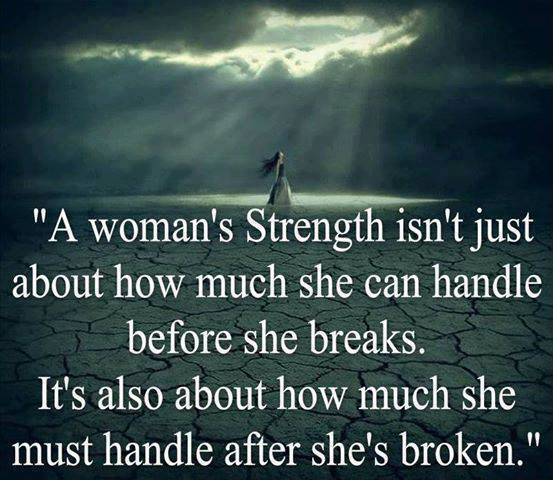 San Francisco's 2015-2016 theatre season began with two new dramas in which tough women try to break out of the emotional armor that has ruled their lives for many years. One is young, vulnerable, and still in her formative years. Having spent time in prison, the other has retreated into a cold and seemingly uncaring emotional state.
* * * * * * * * * *
Whether in real life, on stage, or on the silver screen, most people have encountered waitresses who are outgoing, caring, goofy, or ice queens. Some become friends; others grow into cultural icons.
In 1974, Martin Scorsese directed Alice Doesn't Live Here Anymore, the tale of the newly widowed woman driving from New Mexico to California with her young son in the hope of pursuing her dream of becoming a professional singer. By the time they arrive in Tucson, Arizona, money is tight and Alice ends up taking a job in a local diner.

Scorsese's film was so successful that Linda Lavin starred in a television sitcom based on his movie (entitled Alice) from 1976 to 1985, where her character ended up working at Mel's Diner on the outskirts of Phoenix, Arizona.

In 2007, Waitress (written and directed by Adrienne Shelley) focused on a waitress at a Southern diner who is stuck in an unhappy marriage. Desperate to find a way out of her miserable life, Jenna (Keri Russell) enters a pie-baking contest with the hope of winning first prize. A stage adaptation starring Jessie Mueller and directed by Diane Paulus (with music and lyrics by Sarah Bareilles) received its world premiere earlier this year at the American Repertory Theater in Cambridge, Massachusetts and is slated to open on Broadway in April 2016.
The Magic Theatre launched its season with the American premiere of Fred's Diner (directed by Loretta Greco on a unit set designed by Erik Flatmo). The action takes place in a British roadside diner as Christmas approaches. Although the first act of Penelope Skinner's drama seems rather thin. it introduces the audience to the folks who inhabit the diner -- its staff as well as its regular customers. On one side of the menu are the diner's three waitresses:
Heather (Julia McNeal) is a tough old bird, a 52-year-old woman who has spent time in jail for setting her abusive husband on fire while he was asleep in bed. Although the younger waitresses think Heather should be promoted to manager because of her acute knowledge of every detail involved in running the diner, its owner has never really pictured Heather in a leadership position. Perhaps that's because she often seems cold and intimidating to the staff and customers. Perhaps it's because he thinks his customers want to be greeted by cute young women. In any event, Heather remains extremely grateful to Fred for giving her a second chance in life following her release from prison.

Melissa (Katharine Chin) is Fred's 17-year-old daughter who has applied to nearby University of Oxford and is eager to pursue a higher education. Although she has dreamed of becoming a lawyer (and has listed the University of Nottingham as her safe school), Melissa insists that she could never go to any school that required her to leave her father at home alone.

Chloe (Jessi Campbell) is the good-natured ditz who, at 31, has just returned from a year in the Far East, with her hair sporting a variety of colored dreadlocks (Japanese style). When it becomes obvious that Heather is not going to get promoted to manager, Chloe decides that she might as well take the job since doing so would allow her to earn more money faster so she could stop working at the diner sooner. Bottom line? After visiting Thailand, Tokyo, and Tahiti, she's well aware that Fred's Diner is a dead end.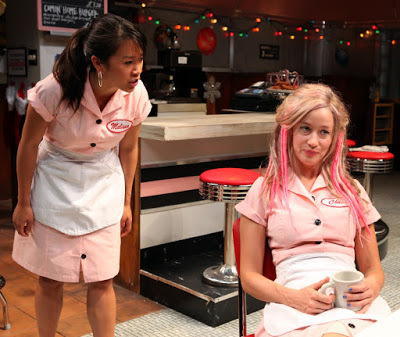 Melissa (Katharine Chin) and Chloe (Jessi Campbell) are two
waitresses employed at Fred's Diner (Photo by: Jennifer Reiley)
The men at the diner include:
Greg (Nick Day), a 21-year-old loser who suddenly leaves the diner one night without paying his bill. Greg can't bring himself to admit that the money his parents claim to have sent him has not yet arrived. As a result, his behavior has grown increasingly desperate.

Sunny (Terry Lamb), a 57-year-old Indian man who can't stop asking Heather out on a date in the hope that maybe, one day, she will grant him some moments of happiness. What Sunny hasn't told Heather is that he is still married (although he hasn't seen his wife in nine years and she now lives far away in Mumbai).

Fred (Donald Sage Mackay) is the owner of a diner who has trouble remaining in business. Although his wife left him five years ago for unspecified reasons, Fred has always boasted that his daughter, Melissa, chose to stay with him of her own free will. Unfortunately, Fred has a drinking problem and a rather curious approach to parenting.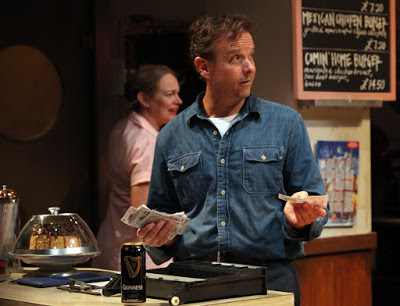 Fred (Donald Sage Mackay) is the outgoing proprietor
of Fred's Diner (Photo by: Jennifer Reiley)
Like many plays involving waitresses, Fred's Diner offers a menu filled with dashed dreams, dysfunctional families, and elusive rays of hope for a way out. As director Loretta Greco notes:
"Beautifully buried in the soil of Skinner's plays are the bones of female struggle. Ironically, the restaurant maxim 'keep it nice' doubles as an implicit mantra for women, and neither progress nor privilege protects us from paying the price of doing just that. Appearances deceive, and no one really sees what is just below the surface. This terrain is explored through the wonderfully familial relationships of these three waitresses as they quietly, heroically, work towards sovereignty. This is what captured my heart when I first read the play."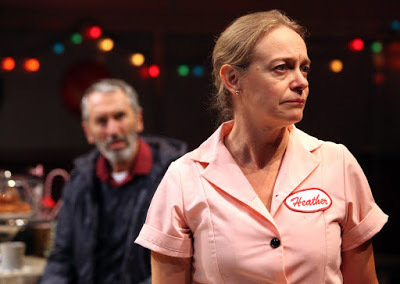 Sunny (Terry Lamb) hopes that Heather (Julia McNeal) will go out
with him in a scene from Fred's Diner (Photo by: Jennifer Reiley)
I found the first act of Fred's Diner to be about as satisfying as a bowl of gruel. However, things picked up in Act II when Melissa finally heard from Oxford, Sunny got a chance to share some time with Heather, and Chloe made a pitch to become the diner's manager. Unfortunately, things don't always turn out as one might hope. Although Act II contains a ray of hope for one waitress's future, the play's gruesome ending provides a dismal future for another.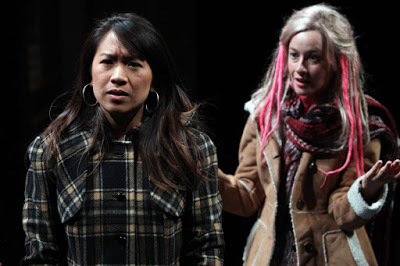 Katharine Chin (Melissa) and Jessi Campbell (Chloe) in
a scene from Fred's Diner (Photo by: Jennifer Reiley)
Heather gets a rare opportunity to give second chances to not one, but two people in acute distress so that they don't end up in jail like she did. Meanwhile, Melissa takes action to save herself from a frightful future filled with filial horrors. As for father Fred, perhaps it's best to quote Oscar Hammerstein's lyric for "Pore Jud Is Dead" from 1943's Oklahoma!
"Poor Jud is dead
Poor Jud Fry is dead
All gather round his coffin now and cry
He had a heart of gold
And he wasn't very old
Oh why did such a feller have to die?"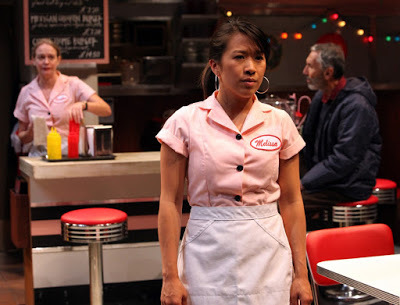 Julia McNeal, Katharine Chin, and Terry Lam, Heather
in a scene from Fred's Diner (Photo by: Jennifer Reiley)
* * * * * * * * * *
The San Francisco Playhouse opened its season with the local premiere of Dogfight (a new musical with a book by Peter Duchan and music and lyrics by Benj Pasek and Justin Paul). Based on Nancy Savoca's 1991 film (with a screenplay by Bob Comfort), the action takes place primarily in San Francisco as a group of Marines prepare to ship off to Vietnam.
On their last night in San Francisco, the men are determined to reenact a loathsome Marine ritual in which each member of the group must bring a date to a party (without hiring a prostitute). Whoever brings the ugliest woman wins the cash prize. It's a nasty game played by a group of brainwashed, testosterone-driven young men who are still trying to decide whether they're assholes or Marines. Apparently, no one told them they could be both.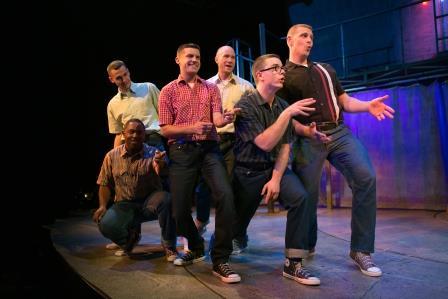 The Marines get psyched for a night on the town in Dogfight
(Photo by: Jessica Palopoli)
As the plot develops, Eddie Birdlace (Jeffrey Brian Adams) finds himself in an empty restaurant where a plump young woman, Rose Fenny (Caitlin Brooke), is attempting to pluck out a tune on her guitar. With the restaurant nearing closing time, Eddie tries to work his (questionable) charms on Rose as he flatters her and pretends to know a lot about popular music. An aspiring singer-songwriter, Rose sees right through his bullshit but, when Eddie asks her to join him at a party, she agrees to go along with him.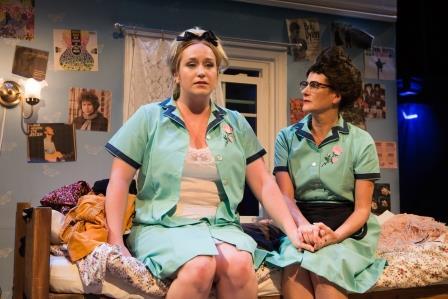 Caitlin Brooke (Rose Fenny) and Sally Dana (Rose's mother)
in a scene from Dogfight (Photo by: Jessica Palopoli)
The catch here is that no one ever invites Rose to a party. She leads a disappointingly drab life so, even if her date with Eddie turns out to be a disaster, she feels it's worth taking the risk that she could at least have a good time. Despite her mother's concern, Rose heads off into the night with Eddie. As soon as they arrive at the party, things take an ugly turn.
Marcy (Amy Lizardo) explains the facts of life to Rose (Caitlin
Brooke) in a scene from Dogfight (Photo by: Jessica Palopoli)
After a fat, sassy hooker named Marcy (Amy Lizardo) wins first prize, she explains the setup of a dogfight to Rose, who becomes so furious that she throws a punch at Eddie and decks him. After telling Eddie that she hopes he dies -- she hopes they all die in Vietnam -- she heads home in humiliation.
Normally, that would be the end of a bad date but Eddie (who is naive and not very bright) follows her home and asks her to come out and have dinner in a nice restaurant with him. Although he can't quite understand why, he likes Rose and wants to spend more time with her.
Caitlin Brooke, Michael Gene Sullivan, and Jeffrey Brian Adams
in the restaurant scene from Dogfight (Photo by: Jessica Palopoli)
The scene in which they go to an upscale restaurant and are insulted by a condescending waiter takes a hilarious turn as Rose decides to order from the menu with foul-mouthed gusto ("I'll have the fucking chicken and some motherfucking peas..."). It soon becomes obvious that, although Rose may be plump, homely, and vulnerable, she has crossed a line to a place where she is no longer willing to take any shit from Eddie or some snotty waiter with delusions of grandeur.
After a romantic late-night walk on the Golden Gate Bridge, the couple heads back to Rose's apartment where their time is limited because Eddie has to check in at the pier from which his ship is due to sail. After they have both lost their virginity, Rose gives him her address and asks Eddie to write to her. When one of the Marines pulls the piece of paper out of Eddie's pocket and taunts him about having spent time with Rose, the embarrassed jarhead rips up the paper before heading to Vietnam.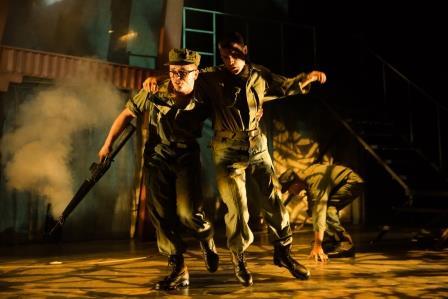 Bernstein (Andrew Humann) and Eddie Birdlace (Jeffrey Brian
Adams) come under fire in Viet Nam in a scene from Dogfight
(Photo by: Jessica Palopoli)
While in combat, Eddie gets a crash course from the school of hard knocks as his friends are wounded and killed. By the time he returns to San Francisco, he's a disillusioned shadow of his formerly cocky self. As he walks through the Haight-Ashbury in his uniform, he is shocked when an anti-war hippie spits on him.
Eddie eventually finds his way to the restaurant where Rose works and, as she sings for a small audience of hippies, waits for her to notice him. True to form, Rose is forgiving and welcomes him back.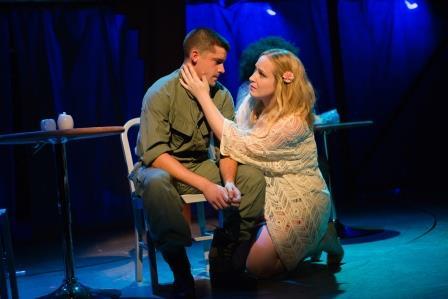 Eddie (Jeffrey Brian Adams) is welcomed home by Rose (Caitlin
Brooke) in the final scene of Dogfight (Photo by: Jessica Palopoli)
Dogfight may seem like an odd choice for liberal Bay area audiences, but the show's director, Bill English, notes that:
"Dogfight is a coming-of-age story about one young Marine whose indoctrination doesn't quite take. The victim he chooses for the dogfight is more than his match. And we watch as she strips away his macho armor, which stands no chance against her charm, wit, intelligence, and strength. The women in Dogfight are stronger and better than the men. They win so easily against them that the story becomes profoundly feminist. Not cast in the anorexic Barbie doll mold of fashion, they own their bodies, their souls, and our stage in a way that commands our respect. They are beautiful and unique.

Most of you have heard me talk about the 'Empathy Gym,' about how San Francisco Playhouse has built a safe space where our community can practice its powers of compassion and empathy. But why do we need such a space? What makes empathy difficult to practice? The theatre community can serve even the most iconoclastic among us because (unlike traditional houses of worship) theatre has no required set of beliefs. No dogma. No epistemology. No metaphysics. Its neutrality can be its biggest asset in attracting the widest possible group of people. No one can be excluded or required to swear to uphold any particular belief system."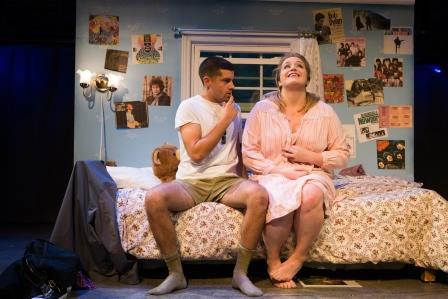 Jeffrey Brian Adams (Eddie Birdlace) and Caitlin Brooke (Rose
Fenny) in a scene from Dogfight (Photo by: Jessica Palopoli)
"We present Dogfight precisely because its circumstances are grim, and our protagonist so seemingly beyond hope. Because we discover in the ugliest worlds, in the bloodiest ring, the seeds of compassion and empathy that, when nurtured, can grow. Art takes us to dark places so we can find that hope is there."
I was absolutely thrilled by the performance I attended. San Francisco Playhouse's production benefits immensely from Bill English's stage direction combined with Keith Pinto's hyperaggressive choreography. Working together, they do a superb job of creating the sexual tension of a bunch of Marines who are stereotypically young, dumb, and full of cum.
The show's score is appealing and refreshingly diverse. With Ben Prince as music director, the strong ensemble numbers maintain a driving momentum. The dramatic flow is brisk and never loses pace (a rare feat for a new musical). The score contains some beautiful solos for Rose, Eddie, and Marcy.
The male chorus of jarheads includes Jordon Bridges as Stevens, the hilarious Nikita Burshteyn as Fector, Brandon Dahlquist as Boland, Andrew Humann as Bernstein, and AeJay Mitchell as Gibbs. In addition to portraying Rose's mother, Sally Dana joins Kathryn Hart in tackling a series of small female roles.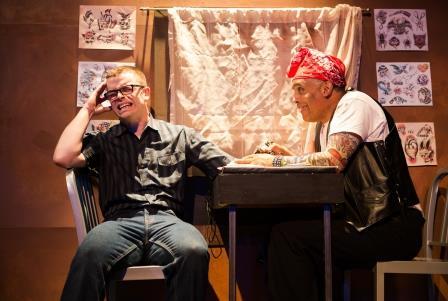 Bernstein (Andrew Humann) gets a tattoo from an extremely stoned
tattoo artist (Michael Gene Sullivan) in a scene from Dogfight
(Photo by: Jessica Palopoli)
Veteran Bay area actor Michael Gene Sullivan demonstrates his versatility as Big Tony, Pete, the snotty waiter, a lounge singer at the dogfight party, a stoned tattoo artist, an aggressive drag queen, and the men's commanding Sergeant. Kudos to Bill English for the fluidity of his unit set and to David Lee Cuthbert for his lighting and projections. Dogfight is a thrilling, contemporary musical with a solid sound and soul that will haunt you long after you have left the theatre. Here's the trailer:
To read more of George Heymont go to My Cultural Landscape
-- This feed and its contents are the property of The Huffington Post, and use is subject to our terms. It may be used for personal consumption, but may not be distributed on a website.