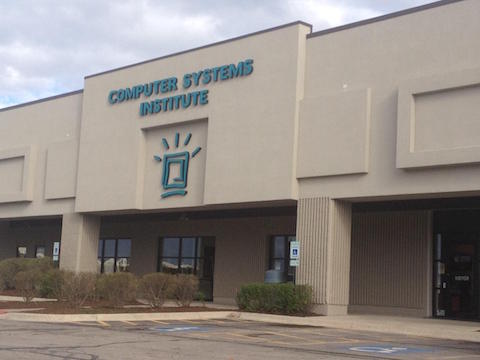 On April 15, 2016, the U.S. Department of Education cut off federal student grants and loans to the Skokie, Illinois-based for-profit college chain Computer Systems Institute (CSI), citing detailed evidence of fraudulent conduct. Denying CSI's appeal from its initial January 2016 decision, the Department used unusually harsh language in concluding that CSI gave its accrediting agency, Accrediting Council for Independent Colleges and Schools (ACICS), and the Department, false information about job placements for students.
Yet CSI is still in business, operating campuses in the Chicago and Boston areas, getting millions in revenues through enrolling foreign students, and, apparently, U.S. veterans. And last month, a review board of the embattled accreditor ACICS, which is on the verge of itself being suspended by the Department of Education, issued an unusual decision to reconsider ACICS's April suspension of CSI's accreditation.
The Department of Education's determinations earlier this year regarding CSI were devastating. Department officials found that some of the fabrications were achieved via a supposed employer called Home Health Consultants (HHC), which CSI reported had hired some 42 of its health care and business career students. Department of Education investigators visited the business address of HHC and found a house with a man named Quinn who stayed behind his closed screen door and offered absurdly unconvincing answers about his operation. The Department investigators also interviewed the supposedly hired students, and most had ever heard of Quinn or HHC. Two students did say Quinn had "hired" them -- to hand out flyers on the street to elderly persons "for what the students said were 'bogus medical services," what one student called "lies; tricking old people out of their money." Only one of the two students was paid; she got $100 for more than 80 hours of work.
The investigators also visited the address of "Dream Team Hope Health Care Services"(DTH), the supposed employer of 14 other CSI graduates. They found a nearly-empty warehouse and a man with another sketchy explanation.
Some CSI graduates who were employed were actually working at jobs like cashier at O'Hare airport's McDonalds and as a janitor -- jobs that did not require an expensive (as much as $14,000 a year) CSI degree.
The Department of Education's April 15 letter denying the appeal was scathing, indicating that CSI management knew about the misconduct and referring to the sham employers as "grifters."
CSI took in $20 million in federal Pell grants and student loans in the 2014-15 award year.
But unlike other for-profit chains, like ITT Tech, that shut down right after losing access to Education Department student aid, CSI is carrying on. And CSI, in fact, opened a brand new campus in Allston, Massachusetts, on September 26.
What is going on?
As U.S. Senators Dick Durbin (D-IL), Richard Blumenthal (D-CT), Sherrod Brown (D-OH), and Tom Carper (D-DE) pointed out in a September 29 letter to the the U.S. Department of Veterans Affairs (VA), CSI is still participating in the GI Bill program:
the Department of Veterans Affairs (VA) has allowed CSI to continue to participate in the GI Bill program despite a clear provision in law requiring disapproval of any institution which engages in misleading practices...Why, nearly eight months after the Department of Education found that CSI engaged in practices prohibited under [this provision], has the Department of Veterans Affairs not used its authority to remove this company from the GI Bill program?
More importantly, CSI is also one of the biggest beneficiaries of a U.S. Immigration and Customs Enforcement (ICE) program called the Student and Exchange Visitor Program (SEVP), which allows foreign students to attend higher education programs in the U.S.  This July 2016 ICE document shows (p. 17) that CSI, with 3186 students, is the fourth biggest participant in the SEVP program for combined academic and vocational education programs, behind only Cornell University, the Houston Community College System, and the University of Iowa.
In fact, CSI primarily markets itself now as a school that provides English language instruction.
But without continued accreditation from ACICS, CSI, already stripped of Department of Education aid, would lose its eligibility for the ICE foreign students program.
Accreditor ACICS acted in April 2016 to "withdraw accreditation by suspension" with respect to four CSI Illinois campuses.
But a statement on CSI's website by CSI's CEO, Julia Lowder, announced that ACICS has now changed course: "On October 3, 2016, the ACICS Review Board of Appeals determined that the ACICS Council must reconsider its withdrawal-suspension action against CSI. I am very pleased with this decision and firmly believe that, when the Council reviews our Institution in December, we will receive a positive action."
I called ACICS this morning to confirm that it had taken this action. In response to my call, ACICS posted on its website shortly afterwards an October 3 letter from its interim president, Roger Williams, to Lowder. In it, ACICS notes the decision of the body's Review Board to remand the suspension of CSI, and ACICS directs CSI to hire independent companies to verify CSI's job placements, to assign staff to counsel students on job opportunities, and to explain, given that CSI has "taught out [i.e., closed] all of its 'career-based' programs," what exactly it is teaching at its various campuses and how many students are enrolled in each program.
An ACICS source pointed me to the accreditor's July 2016 "Accreditation Criteria" document, available to download on the ACICS website, which explains that the ACICS Review Board consists of "fifteen (15) persons, all of whom have had experience in accreditation."  The ACICS source said these individuals are "independent" and not employed by ACICS, but the source declined to tell me who presently serves on the Review Board.
The ACICS Review Board decision seems quite stunning. Via that action, the accreditor, with its back to the wall for its lax oversight of predatory for-profit colleges like Corinthian and ITT Tech, and just days after announcing it would pursue a final desperate appeal to Secretary of Education John King to remain eligible for federal aid, halted its decision to suspend a college chain that has been severely criticized by the Department of Education for alleged fraudulent conduct.
A Department of Education spokesperson said the Department was aware of the ACICS Review Board action, but that the Department has played no role in ACICS decisions on CSI.
Reached by phone earlier today, CSI's CEO Julia Lowder answered my questions thoroughly but declined to be quoted. She said she preferred that I used her written responses to emailed questions, which I provided, with a deadline. She later sought more time, to which I agreed, but that time also has passed. When I get Lowder's responses, I will update.
This article also appears on Republic Report. 
-- This feed and its contents are the property of The Huffington Post, and use is subject to our terms. It may be used for personal consumption, but may not be distributed on a website.
Source: Elder Care Huffington Post