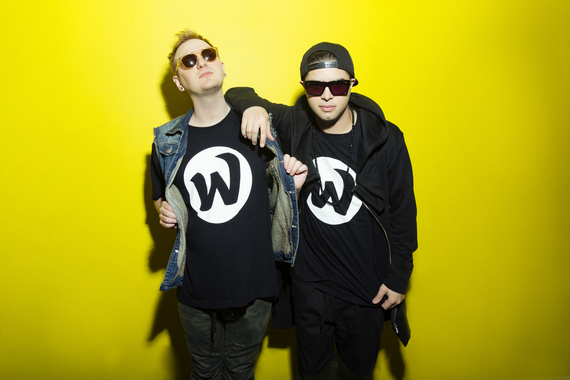 Ephwurd is a bass house collaboration making big waves in the electronic music scene. Composed of dubstep mastermind Datsik and up-and-comer Bais Haus, the duo is set to perform this weekend at the EDC NY event at Citi Field. There is however, a bit more going on behind the music. I got the chance to dive into the history of Bais Haus and his connection with Datsik along with his roots in jazz as the son of the late Tim Hauser.
As a founding member of the award-winning jazz/pop band The Manhattan Transfer, it would be hard to say that Tim Hauser hasn't left his mark on music; his son Basie Hauser (Bais Haus) has stepped up to make his own mark. I had a short email correspondence with Bais, and attempted to get a bit more information on how he was able to transition from being the son of a Jazz musician, to aligning himself with an electronic star such as Datsik; a relationship that began when Basie was his tour manager.
Shawn: How did the son of a Jazz musician find his place in the electronic world? What drew you to that particular scene?
Bais Haus: "Growing up listening to nothing but jazz, I got an ear for very specific things such as chord changes, rhythms and melodies, but mainly the energy that that any specific piece of music would bring out in people. I went from listening to acts such as Chick Corea, Weather Report, and Bela Fleck, to acts like Apex Twin, Squarepusher and Radiohead. It wasn't until I attended my first rave, and saw the impact that the music had on the crowd, that I fell in love with the genre. The sonic quality of the music was so well produced and it made kids jump all night which was a first for me. since then I've been hooked and had to learn how to make music like that!"
Shawn: Has there been an influence from you father's style of music in the way you craft and produce your own work?
Bais Haus: "There's a lot that goes into making music and maintaining a brand. My father was not only a member of The Manhattan Transfer, but he also managed the group for long periods of time. I gained all of this knowledge from him not only in music, but management; Which I feel is an integral part of being successful in today's world. In terms of music, I love weird chords and unique chord changes, all of which I learned from him. I've actually had to break away from writing chords like that in a lot of recent pieces, just because there are a lot of basic pop elements in EDM and using augmented or diminished chords don't really turn on the mainstream as much as it used to."
"With that said, you can always translate those ideas into new ways of making songs sound unique or different. The beauty of electronic music is that we have every sound imaginable at our disposal so we don't need to utilize the basic tools that used to make up a band or piece of music."
Shawn: When did the transition from Tour Manager and Artist go to collaborators? Were you working on music anyway, and just decided to make it into a bigger thing?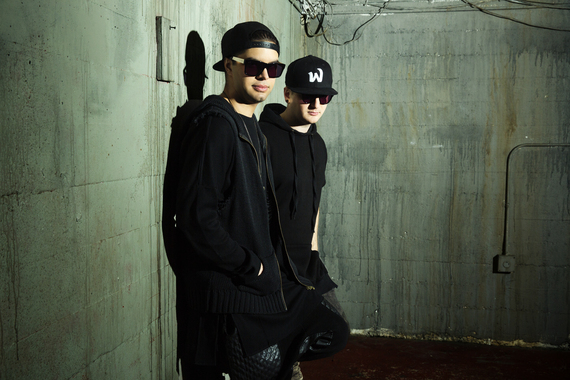 Bais Haus: "Yes, Troy (Datsik) and I had been traveling and making music for quite some time before we decided to make Ephwurd a project. The transition happened once it gained notoriety. We had gotten to that point where it would have been a waste if we had not turned it into something bigger."
Shawn: What influenced the transition from Datsik's more dubstep style of production to Ephwurd's four-on-the-floor bass house? Why did you go in that direction?
Bais Haus: Dubstep has kinda hit a wall in terms of how much you can do. It will always be a super hyped up style of music that gets kids going crazy, but a lot of the ideas have already been rinsed out. Changing up the tempo and drum rhythms alone brings in a whole new way to look at sound design and arrangement for basses, chords and melodies. Watch out, once bass house is rinsed out we are gonna move onto hardstyle polka music!"
-
The fact that both Bais Haus and Datsik are aware and knowledgeable enough to forge their own path from an increasingly stale genre is exciting, and their sound is definitely just as big and bad. They're also not afraid of producing phenomenal remixes of hot songs. With this article, I'm happy to premiere their remix to the widely popular track "I Do Coke" by Kill The Noise. Ephwurd's remix is an intense-from-the-start driving bass house hit. Throwing away the typical slow build of your standard bass tracks, this one begins with intensity and rises to a fever pitch before twisting the sound and attacking with ferocity.
Ephwurd plays at EDC NY's Cosmic Meadow on Sunday, May 15th at 5:15pm.
-- This feed and its contents are the property of The Huffington Post, and use is subject to our terms. It may be used for personal consumption, but may not be distributed on a website.
Source: Elder Care Huffington Post