President of United States has signed a treaty on Feb 25. It approves 66 Nepalese products to enter America without any taxation. It is not for a single day, but for 10 whole years. It might possibly be a great opportunity for Nepalese businessmen to prosper their business.
Participants of the trade show include carpet traders, thanka traders, producers of bamboo products, milk producers, khukuri makers and others engaged in the tourism industry. Since there are some criteria's to be met by the participating businesses, only those who can export the products and provide services will be able to participate. The trade show will be held from Sept 30 to Oct 2nd in New York city in a grand manner.
In order to promote and establish the Nepalese business in the world arena, a 3 day "Nepal Exhibition and International Trade Show" will be held from Sept 30 to Oct 2nd. World Business Management and Consultant LLC, an organization of Nepalese started from the state of Maryland is the organizer of this event. The idea behind this project which brings Nepalese retailers from across the globe to a network called "Business to Business" is from none other than chairman of this LLC Mr. Buddi Prasad Regmi.
Chairman Buddi Prasad Regmi says," Our main target behind conducting this event in America is to bring Nepalese product in the international market. The main goal is to connect Nepal to the global market. We have taken 75000 sq ft of New York's Pier 92 in Manhattan for 5 days. One day is provided to prepare for the stalls. For the visitors the entrance is free. No ticket is necessary. Nepalese traders who participate in the expo shall have the opportunity to sell their products to anyone they want."
We will be promoting Nepalese industries, commercial farmers who grow tea in Ilam, coffee in Gulmi, Yarsa in Dolpa, apple in Jumla, Dhaka, Karuwa in Palpa and other products like Ilaichi, Suto etc. Besides, those who create products by their own hands and hardworking agriculturists will have the first place at the trade show.
The fee for a couple coming from any part of the world is $7499 which includes two way ticket, equipments necessary inside the booth and 5 days stay at New York hotel. Booth size is 10*10. Booth and every individual who comes here will be insured. If you plan to manage all on your own, just booth will cost you $4999. This includes booth insurance. However, you will have to get your own travel insurance.
Mainly, small business owners of Nepalese origin will be able to participate in the event. Agri-products, bamboo, nigalo and paper products, plastic and soil products, artifacts, handicrafts, drawings, pashmina, garments, tourism and travel agencies, trekking, hiking and risky workers will be able to place their products and services at the event. Special place will be given for the Agri products and organizations that create Nepali products. For the exhibition, small interaction event has been held in Nepal and the process of getting into the expo has been described. Since April 3rd this process has begun.
Organizers too have been talking to senators, governors and congressmen of different states. Organizing, LLC chairman Regmi, organizing member Thapa and managing director Amrit Kandel have discussed the matter in many states. For the co-ordination, they have also discussed the subject matter with Diane Feinstein, who is a senator from California.
Business owners have been attracted by the opportunity to take their products in the international arena with no tax on behalf of the American government.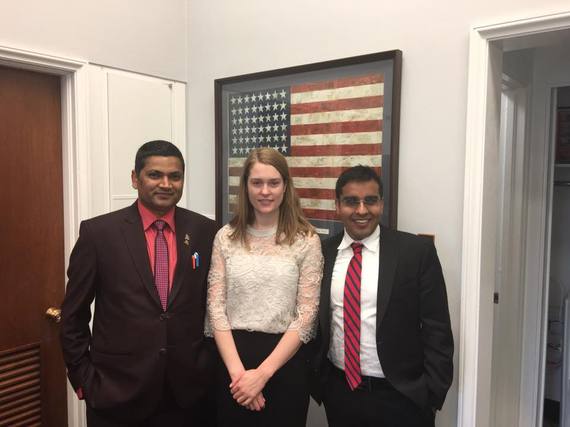 DC Meeting at Ander Crenshaw's office
World Business Management and Consultant (LLC) is organizing the event. LLC Director Sanjay Thapa is very cautious in the matter that some of the business owners might take advantage of this fair to enter and stay in America. According to director Thapa, participating companies and individuals will be selected only after a rigorous examination of their background and their business.
According to Chairman Regmi, they have already spoken to the senate office of Maryland and Congressman of Colorado state.
According to the organizers, over 350 business owners from across the world will participate in the trade fair. Besides, they also mentioned that 70% of businesses will be from Nepal while another 30% will be from other parts of the world.
The main aim of the fair is to bring Nepalese products in the international arena and connect Nepal to the world market.
-- This feed and its contents are the property of The Huffington Post, and use is subject to our terms. It may be used for personal consumption, but may not be distributed on a website.
Source: Elder Care Huffington Post