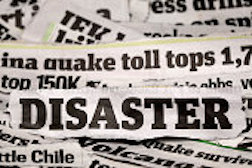 As America approaches the holiday season, its mass media often get on a seasonal kick of reporting the fate, in that somewhat sanctimonious phrase, of "those less fortunate than ourselves" at home and abroad.
A classic case is the well-intentioned New York Times' combination of reporting and charity fundraising known as The Neediest Cases, which concentrates on regional New York relief efforts.
Internationally, we can now expect the appreciable annual uptick in coverage of what the media stubbornly call "natural disasters" - much to the chagrin of many humanitarian workers.
I've reported over time with many relief agencies as they work in the field, from branches of the United Nations to private charitable agencies like Oxfam and Save the Children, and most recently America's UMCOR, the United Methodist Committee on Relief. UMCOR's executive secretary for disaster risk reduction, Yovanna Troansky, speaks for many on the front lines of emergency assistance in taking exception to that "natural" label.
"When people call an event a 'natural disaster,' they imply that there was nothing human beings could have done about it," she told me. "But that's far from the truth."
She pointed out that much of UMCOR's work with its aid partners around the world is based on the recognition that natural hazards - like cyclones, hurricanes and earthquakes - will regularly occur, but they do not have to become disastrous in their impact.
UMCOR staff and partners hold workshops where they work with local communities to identify and meet the hazards in their locality, seeking to minimize the damage inflicted whenever a disaster might strike.
In the case of the Indian Ocean tsunami of December 2004, for instance, communities that had no timely warning of the event, and were unable to recognize the signs of a vast tidal wave on its way, were the ones who suffered the greatest losses in life and property. Others who had timely warnings or could see and understand for themselves what was happening at sea, escaped with much less death and destruction. Troansky said:
"There is a classic recipe for a disaster. It combines a hazardous event with what we call a 'context of vulnerability' among the local people. If people build their capacity to anticipate and respond to the event, the damage caused will be less."
For instance, she pointed out, a major river may regularly overflow its banks. If people use the river for disposing of solid waste, over time this could end up causing the river's natural expansion to turn into dangerous floods. But if the people mobilize to ensure more careful use of the river, this will minimize the risk of serious flooding. "If a flood were to happen anyway, a well-prepared community would know how and where to take refuge and would develop the necessary first-aid responses among community members."
Helping to bring new resources to a local population, along with information about how to employ those resources, is nowadays firmly embedded into UMCOR's disaster work, as is full participation by local communities.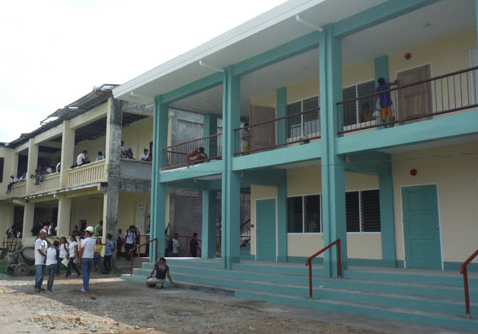 Troansky cited UMCOR's recent experience in the Philippines. "We have been helping to get evacuation shelters built," she said, "in anticipation of the serious typhoons to which the country is prone." (A shelter pictured right)
This new provision, in the Tanauan municipality of Leyte Province, has been planned with the full participation of local communities. "They told us that during the Yolanda typhoon of 2013, they didn't know that a storm-surge can accompany such typhoons, and it was the surge that caused 95 percent of the district's total fatalities. But now they have built up knowledge and a plan to act on it."
The shelters are of course sturdily constructed, and on two stories, to provide an upstairs refuge above the level of such a surge. Now, Troansky emphasized, "the people not only have somewhere safe to go, they have developed a communication system to warn about the typhoon and any storm-surge, and have implemented training to accomplish timely and orderly evacuations from their homes to their local shelter."
Troansky summed up: "It cannot be any part of our plan to eliminate natural hazards, but we can prevent a threatening event from becoming a disaster".
So let's hope that assignment editors and headline writers can eventually get over their knee-jerk categorizing, and be educated to fully recognize the human-made element that's so often a critical factor in catastrophes.
****
Read more of David Tereshchuk's media industry insights at his weekly column, "The Media Beat", with accompanying video and audio. Listen also to "The Media Beat" podcasts on demand from Connecticut's NPR station WHDD and at iTunes.
-- This feed and its contents are the property of The Huffington Post, and use is subject to our terms. It may be used for personal consumption, but may not be distributed on a website.