Given a choice, nobody would choose to lose her hair. The emotional and psychological toll of living with hair loss can be extremely challenging, especially in a society that places so much value on having a youthful and attractive appearance.
Psychological studies consistently show that thinning hair or female baldness can exaggerate feelings of low self-esteem and impair quality of living, especially for women.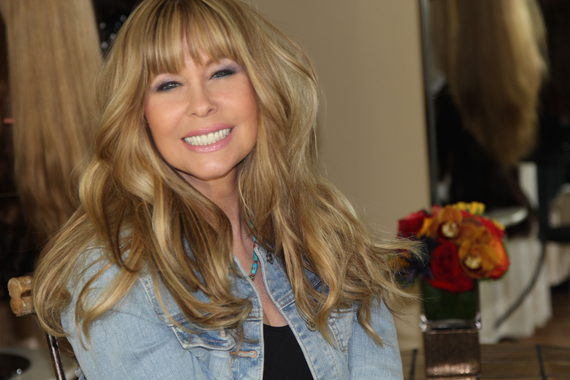 Amy Gibson, "The Voice of Women's Hair Loss," and founder of CreatedHair.com, the author of Sex, Wigs & Whispers: Love and Life with Hair Loss, and creator of the Cancer Hair Care Center by Amy Gibson for the prestigious CancerConnect.com.
Amy Gibson is the country's leading hair loss consultant as well as the brave and tireless voice committed to helping women look and feel their very best. This Emmy award-winning actress, author, nationally recognized speaker, alopecia activist, and innovative wig designer, knows how her clients' feel first hand because she too suffers from a condition called Alopecia Areata: a condition which ultimately left her completely bald.
Learning how to cope and navigate through her personal hair loss in the highly competitive world of show business ultimately sent her on a journey to become the founder of CreatedHair.com, a company dedicated to assisting women who are experiencing hair loss. While creating this company she also helped these women rebuild their appearance and sense of self-worth.
I had the opportunity to sit down with the inspirational Amy Gibson and hear more about what motivates her as well as how her company, CreatedHair, is forging new ways to help women deal successfully with this challenging loss.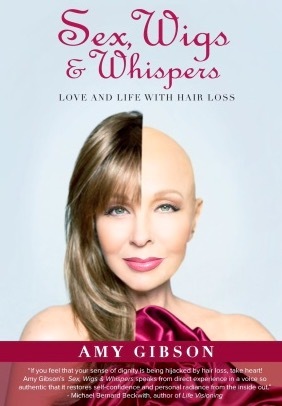 Sex, Wigs & Whispers: Love and Life with Hair Loss
Dr. Robi: Amy, you've been an expert and advocate for women struggling with hair loss for a couple of decades now. Would you tell me how, as an actress, you got interested in this typically un-talked about topic?
Amy G: My first bout with Alopecia and hair loss was when I started losing my hair in large patches while playing a lead role at 13 1/2. It occurred while I was performing on my first daytime show, LOVE OF LIFE. It was very frightening at that time. Nobody talked about hair loss or Alopecia, so very little was known about this condition or had any answers -- especially for a child who was in such emotional pain and fear. I remember my imagination running wild, immediately associating Alopecia with leprosy and being terribly afraid of my limbs falling off next. I would have nightmares about this constantly. There was no one to talk to about any of this.
The only treatment available was a 'Band-Aid' of Cortisone shots that they would shoot directly into my scalp. I would breathe in the numbing spray when the nurse wasn't looking so I could be high enough to silence the sound of "Rice Krispies" as the needle entered my scalp with each shot. The cortisone treatments which are still used today would momentarily force the hair to grow back in the bald areas but wouldn't prevent further hair loss from occurring. I used this treatment for 17 years until one day my body rejected the cortisone and all my hair fell out in 3 weeks -- just 5 weeks prior to beginning a new leading role which had been created specifically for me on GENERAL HOSPITAL.
After struggling on my own with the hair loss process throughout a 20-year television career and having discovered my own deeper strength to keep my self-esteem and my discretion, I decided to help other women and children with hair loss by offering the type of personal guidance that wasn't available to me. Along with the highest quality products, my goal became to help women living with hair loss look like themselves again and feel their optimum potential.
Dr. Robi: Culturally we seem to be better at talking about male hair loss and baldness than female hair loss and baldness; why do you think this is?
Amy G: It's all about the hair. Hair loss and hair-related issues are a major topic throughout history.
The Egyptians regarded baldness as shameful.
Men and women were willing to put ointments and potions of all kinds attempting to regrow hair that had fallen out. From reciting magic spells to the sun god and then swallowing a mixture of onions, iron, red lead, honey, and alabaster, to rubbing the fats and even toes of a dog, or the hooves of various animals onto the scalp, including those of lions, hippopotamuses, crocodiles, and geese. They would do anything to get their hair and self-esteem back just so they could feel better about being in society. So as you can see, hair loss has always been a "big deal" and baldness is more familiar than has been talked about openly -- for women.
Egyptians shaved their beards and heads, which was a custom adopted by the Greeks and Romans about 330BC during the reign of Alexander the Great. This was encouraged for soldiers as a defensive measure to stop enemies from grabbing their hair in hand-to-hand combat.
It is mainly some of the great male figures such as Gandhi, Gorbachev, Darwin and Churchill who have thought nothing of strutting their shiny bald heads. So I guess you can say hair awareness or lack of it is universal to human culture.
In our era hair loss still carries some shame, guilt, and sadness. It's clearly more easily accepted for men to be bald than women. I work hard with many women trying to get them to change their perspective, as wigs are really an extension of ourselves. They are now more and more looked upon as a sexy and fun accessories like lipstick and heels! They also allow us the opportunity to be anyone we want to be in an instant.
Sadly, it's not until the recent release of Mattel's "Ella"-- a bald Barbie doll that comes with several wigs designed to give solace to little girls going through chemotherapy, that there is any bald example figure for little girls. Kudos to them for helping these children have a more creative and appropriate understanding of the cancer treatment hair loss process.
I wish they could have taken a more empowering stance and given "Ella" the power of choice instead of making the doll's baldness related to a sickness, which can very possibly only magnify a feeling of lack or not being good enough in the minds of young children everywhere.
Dr. Robi: What do you think it means to women to struggle with hair thinning and female baldness?
Amy G: For most women, they feel like they have lost or are losing a part of themselves that represents their sexuality, sensuality, and feminine essence. They might feel ugly and unwanted. They feel out of control, uninformed, frustrated and that nothing can stop this process. Which is why the art of created hair or wigs is so important. Because as long as you can come close to feeling and looking like "You" when you look in the mirror, the easier it is to make it through the day and lessens the enormous stress hair loss can have on our emotional and nervous system, which in many cases, only adds to the vicious hair loss process. Less struggle can mean more healing.
Dr. Robi: You work with all kinds of women who are struggling with hair challenges; how does your company differ from other wig companies out there? What sets you apart?
Amy G: Unlike most companies, we find what sets us apart is the tremendous personal attention we give each client. Education is vital. We spend time teaching our clients about the art of wigs, how to select one, how to care and maintain, a wig, what makes your correct color and style. We do all this, so they can be more secure in their understanding of this unexpected, unfamiliar process. Then they're better equipped to make an intelligent choice with such an important personal purchase. Wigs are an investment on many levels: financially, emotionally and spiritually.
I want my clients to acquire a hair piece not because I tell them what is best or because of our reputation, but because they have a solid understanding of what makes the wig correct for them.
Dr. Robi: How do you work with the self-esteem component of your clients' hair loss issues?
Amy G: This is a sensitive area and everyone's barometer is different, so we are careful in our assessment and approach with each client.
For my cancer clients, most of the time their hair will return, so the emphasis for someone in a crisis mode may be to remind them how temporary their hair loss is and how quickly their fresh new hair will return. For my other clients, I find that as long as we can find those products that help them "remember" who they are again, their self-esteem is heightened and the rest of the details fall into place more naturally.
Dr. Robi: Do all of your clients need wigs?
Amy G: All clients that seek me out need hair, not just a consultation.
They either need a top piece to give them volume, which is the greatest invention scene the paper napkin. Let's not forget beautiful bangs to cover the very front hair loss or a beautiful full wig with maybe a tad more density than the woman has now, so she looks like herself only better, yet not look like they are wearing an obvious wig; this is in itself an art to achieve with someone's facial symmetry. Forty-five percent [45 percent] of the clients we provide wigs for live outside of Los Angeles. Our stylists are able to match their photo of their style exactly.
Dr. Robi: You talk about how to keep hair loss a secret. What does this mean exactly? Wouldn't this be hard to do for the single woman who's dating?
Amy G: Keeping one's discretion is the most challenging part of wearing a wig, and there is an art to it. It's not hard to keep your hair loss or created hair a secret at all when you have the right tools, correct guidance and learn the simple steps which allow you to not only feel more relaxed by having these tools at your fingertips but will help you keep your power during this time. It can be fun!
Dr. Robi: You recently came out with a new book SEX, WIGS & WHISPERS: Love and Life with Hair Loss, what can your fans and readers expect to learn about you?
Amy G: My hope is that the book gives readers a sense of who I am as a woman, not just a designer, spokesperson or actress. I walk their walk. Even though I am married, I still live with the same personal struggles at times while on this hair loss journey -- especially since my Alopecia has gone to the next stage called Universalis where I have lost all my body hair, eyebrows, and lashes. There are days when I feel on top of it and feel beautiful and other days when I look in the mirror and feel like an alien and have to work through it just like anyone else to get back to "me" again. On those days, I take a breath and quickly remind myself of the positive things I do have in my life, and stay grateful. I have found that gratitude helps me and my clients get out of the funk more quickly and into a more joyful place.
Dr. Robi: What was it like for you emotionally, being in such a visual world as an actress, struggling with Alopecia? What was the hardest part?
Amy G: Losing my hair and trying to hold on to my self-esteem and confidence in a world that cherishes hair and where you are constantly judged on your looks first was very difficult.
While searching for whatever treatments I could find and not be able to bounce the information off of anyone and get reliable, credible feedback was extremely difficult on my soul.
I was very insecure and always worried the wind would blow and my wig would fly off or someone would bump into me and my hair would move off my bald patches for all to see. I was very shy. Aside from a coffee with someone now and then, I didn't seriously date until I was 21.
As I look back, I see how my Alopecia affected every part of my being, which is why I am so passionate about doing whatever I can to prevent that from destroying other women's lives. This is why I am so committed to creating the correct solutions for each and every person who comes to me.
Dr. Robi: What's next for you and where can we learn more about what you're working on and your upcoming projects?
Amy G: Currently, I was fortunate enough to be asked by CancerConnect.com to create the first Cancer HairCare Center by Amy Gibson which is currently helping thousands of cancer patients. I am also working on my second book, which will hopefully be transformational for the readers as we talk about how to combine many outer beauty secrets with our inner wellness.
There's some very strong interest in a number of different wig accessory products I've been developing, including a much-needed full-service medical wig line that will further give women freedom and comfort while living with hair loss, cancer treatment, and wigs.
There is a steady stream of videos we're producing, and since I enjoy being a television talk show host, we're in development with a new 1/2 hour show that combines the best of personal transformations with cutting-edge health and beauty alternatives.
Amy Gibson's goal is to help people with hair loss, and it
is to that goal she has dedicated her company: CreatedHair.com
For more information about Amy Gibson and her latest projects go to: createdhair.com and cancerconnect.com
-- This feed and its contents are the property of The Huffington Post, and use is subject to our terms. It may be used for personal consumption, but may not be distributed on a website.
Source: Healthy Living Huffington Post