Four years ago in the shadow of Chicago's Aon building, surrounded by 40,000 people, Chicago marathon runner Jeff Goad stopped thinking about cancer and got back to running his life.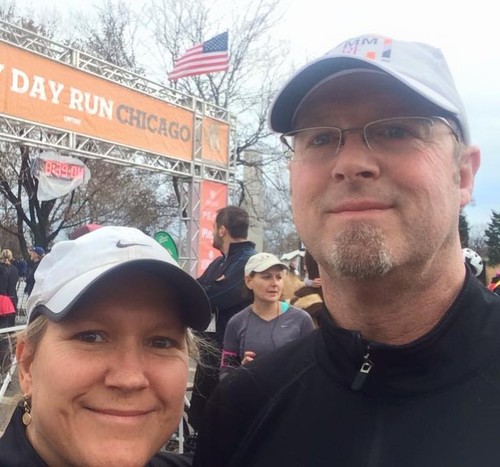 "It hit me how unbelievably gratifying it was to just be there when I didn't even know if I'd be around," he says. "With cancer, your life revolves around all the medical stuff. You don't feel any control over the things you're passionate about. I refused to let that define me."
Jeff was diagnosed in 2010 with multiple myeloma, a form of blood cancer in which malignant plasma cells accumulate in the bone marrow, crowding out normal plasma cells that help fight infections and decalcifying the bones, turning them into what Jeff calls "baby swiss cheese." It's a disease that is usually detected when grandpa falls and breaks his hip. The average patient is in his early 70s. But Jeff was a week shy of his 50th birthday when diagnosed. He had run a dozen marathons, and was swinging a bat in a softball game when he injured his back. What he thought was a pulled muscle was instead a compression fracture in his spine that revealed the cancer.
"I wondered why me, as a young guy?" Jeff says. But his relative youth and good health has put him in a position to fight the disease on his terms.
In January Jeff and his wife Ramona will join a team of 15 people trekking to the top of Mount Kilimanjaro to raise awareness and funds for the Multiple Myeloma Research Foundation. It's an adventure he's dreamed about since the 4th grade, when he told his classmates that one day he wanted to climb Mount Kilimanjaro and see the endless plains of the Serengeti.
Jeff will be one of four in the group who are myeloma patients not willing to be sidelined by cancer. In the last five years, following chemotherapy and two stem cell transplants, Jeff reached partial remission and was put on a low "maintenance" dosage of the drug Revlimid.
"On the lower dose I felt so completely normal, it was like I didn't have cancer anymore. It was really in the rear-view mirror," he says.
But Jeff's most recent scan revealed a quarter-sized lesion in his pelvic bone. "I knew that someday, eventually, it would pop back up again," Jeff says. "Still, it was a shock."
Jeff's drug dosage has been increased and he has another scan in early January. "Hopefully what it will show is that the spot is smaller and that will mean that the drug is being effective," he says.
The news is not keeping Jeff out of Africa. He and Ramona have raised nearly $18,000 toward their combined goal of $20,000. The entire MMRF team has surpassed its original goal of $150,000 and is now aiming to raise $200,000 by the time the hike starts in late January.
The team includes relatives of patients, a multiple myeloma doctor, an executive from Takeda Oncology, a representative from the MMRF, and the director of patient education of Cure Today magazine, who will be filming a documentary of the climb.
Now that Jeff is out of remission, the trip will be a lot more challenging. His treatment will make him more easily fatigued, dehydrated, and susceptible to muscle cramps. "I don't have any reserves," he says.
Still, he's confident that his marathon training has prepared him to climb the highest free-standing mountain in the world. "I just have to deal with it and understand my limitations," he says. "As a marathon runner, I've learned how to suffer in a controlled fashion."
The average person may stop at the first signs of discomfort, Jeff says, but "I've learned to look at the horizon and the incremental steps needed to get there."
What Jeff sees is a clearly defined future. "Having cancer narrows the focus about what we want to do and who we want to do it with," he says. He and Ramona now ask themselves, "How do we go out and live the most fulfilling lives? Who are most important people in our lives? What brings us joy?"
Climbing Mount Kilimanjaro is their next adventure, but Jeff knows it won't be just a personal accomplishment. "I do these things for all the people who can't," he says."I'm comfortable talking to people, or getting in front of big groups to talk about my story."
Jeff mentors people who are newly diagnosed with multiple myeloma. He shares tips about how they can expect to feel, why they should stock up on certain foods, hints for staying positive--even when and why to get a haircut.
"I got out of the shower one day and had hair come out in handfuls. It was mortifying."
He tells people it's all about meeting cancer on their own terms. Most of all, he wants to challenge others to get back to what they are passionate about: "You will benefit, your health will benefit. It's absolutely connected."
Jeff is certain that his passion for hiking and adventure will take him to the top of Mount Kilimanjaro and that his story will inspire those with multiple myeloma to keep sight of who they are beyond their diagnosis.
"It's obvious to me," he says, "that this is part of my destiny."
-- This feed and its contents are the property of The Huffington Post, and use is subject to our terms. It may be used for personal consumption, but may not be distributed on a website.