New year, new you! You have decided on what your goals are and now you need help accomplishing them. You're thinking of obtaining a personal trainer of course, to help you and guide you along the way. However, you have no idea what to look for in a trainer.
Here a few tips to guide on you on your quest to choosing a personal trainer that's right for you.
Certified -- Is the personal trainer certified and through which organization?
Certifications assist in the credibility, however, experience also plays a vital part.
Liability -- Does the personal trainer have liability insurance?
If they are employed at a fitness facility they are usually covered, however, if your trainer is an independent contractor you will want to ensure they have their own liability insurance.
References -- Is the trainer willing to offer references of current or previous clients with similar needs like yours?
Professionalism -- What protocols do they have in place for late, rescheduled or cancellation, either from you or themselves (also see my previous article on professionalism).
Are these protocols provided verbally or written?
Appearance -- Does your trainer "look" the part. This is not to say that your trainer has to have a 16-inch biceps or a 6-pack, but does their appearance motivate you to push a little harder, to complete that extra repetition?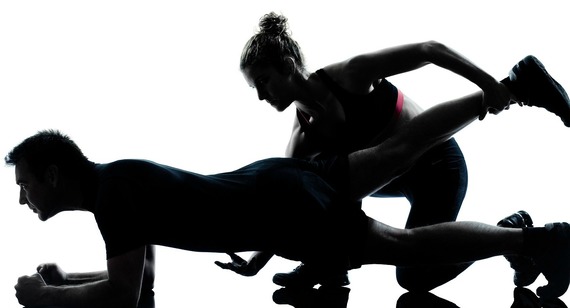 Communication -- This is a two-way street. You should be comfortable enough with your trainer to communicate any pain or discomfort. Once you convey this information to your trainer, are they listening to you? Are they using terms you understand or are they throwing scientific or gym jargon at you with no full explanation?
Personality -- Let's be honest, personality does play a part here -- after all you will be spending vast amount of hours with this person, so you want to make sure there isn't a personality conflict. If you possess a calm demeanor, a trainer with a hyper personality may not work best with you.
Billing -- Was the billing comprehensibly explained to you? Do you know exactly what you are paying for? How long the sessions are and when payments are due?
Specialty -- Are your goals in line with what your trainer specializes in?
For example, if your trainer specializes in rehabilitation and your goal to prepare for a body building show, this may not be the trainer for you.
Whichever personal trainer you decide to hire, make sure you have used the above information to assist you. Remember, this is your goal, your journey; a personal trainer is there to guide you along the way to ensure you arrive safe.
-- This feed and its contents are the property of The Huffington Post, and use is subject to our terms. It may be used for personal consumption, but may not be distributed on a website.