While the shooting terror and its aftermath were unfolding in San Bernardino, for many Muslims in Hawthorne, Cal. (around 74 miles west of San Bernardino) , December 2nd, 2015 was just another regular day.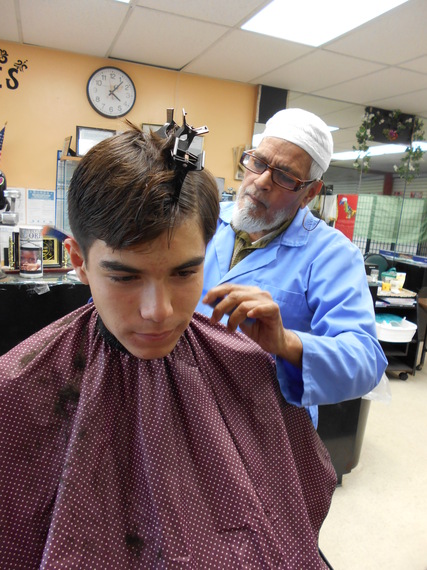 Around 4:06 pm PST, when, according to the LA Times timetable of the events, an officer was wounded in the police firefight with Syed Farook and his wife Tashfeen Malik, the 78-year old Pakistani Rahmat Hussain was at his Desi hair salon on Inglewood Ave. Instead of a rifle, he was holding his tool of more than 60 years - scissors. His customer was a young man of mixed Latino and European background who discovered the salon accidentally when passing by on a skateboard. Rahmat spoke almost no English but from the sounds of satisfaction he made at the end of the hair-cutting job, one could clearly understand the special pride he took in his craft.
Desi is part of a string of small businesses in the heart of the Muslim community in Hawthorne, Cal. Next to Desi is a small grocery store whose Indian owner praised his product of soan papdi - a traditional flaky sweet pastry, imported from Pakistan to Ontario, Cal. But the owner couldn't make up his mind about which was a better dessert - soan papdi or another Pakistani delicacy, coconut cookies.
Adjacent to Desi is also Al-Watan, a tandoori halal restaurant which for more than 30 years has been serving Pakistani-Indian dishes. According to the restaurant critic Jonathan Gold, "Al-Watan is what may be among the best tandoor-cooked meats in the United States." In his review for L.A. Weekly, he also pointed out that, "Pakistani cooking is probably everything you like and more so."
"Watan" means "home" or "homeland," and Al-Watan is obviously a popular family place: after 3:00 pm that day, it was full with parents and their elementary school-age children. In the backroom, among a family of six, were two girls wearing uniforms of the local Al-Huda Islamic School. In the front room, one table was occupied by an 8 or 9-year old boy and his father, dressed in designer jeans and modern Islamic shirt in green floral print pattern. Across them, two boys of around the same age were having a lunch with their Yemeni father, dressed in long white shirt and black satin pants.
In a central part of the restaurant, behind the cashier in the front room, a flat TV was showing CNN footage of San Bernardino shooting but people didn't pay much attention to it. A waiter apathetically glimpsed several times at the screen but soon lost interest. At that point of media coverage, not much was known about killers' identities, and especially that they were Muslim. Understandably, the news was upstaged by the unfolding of people's lives.
The Yemeni father, in particular, was having a really bad day: he was waiting his car to be repaired at a local auto-body shop; his sons misbehaved, and he scolded them while holding a piece of naan; and he complained to the waiter that his meal was too greasy (obviously, he wasn't familiar with Jonathan Gold's insight that, for Al-Watan, "Abundant oil is a sign of generosity.") By the end of the lunch, unlike the victims of San Bernardino shooting and their families, his day's problems were resolved - the car was fixed, the meal was cooked the way he liked it, and the kids were disciplined. For a reward, he even bought them treats from the restaurant's candy and gumball machine.
Active parenting is essential for the Muslim community in Hawthorne, Cal., and especially for achieving the goals of the near-by Al-Huda Islamic School where parents help with hot lunch programs and field trips. Established in 1997, this co-ed K-8 school includes California state core curriculum, Islamic studies, and Arabic.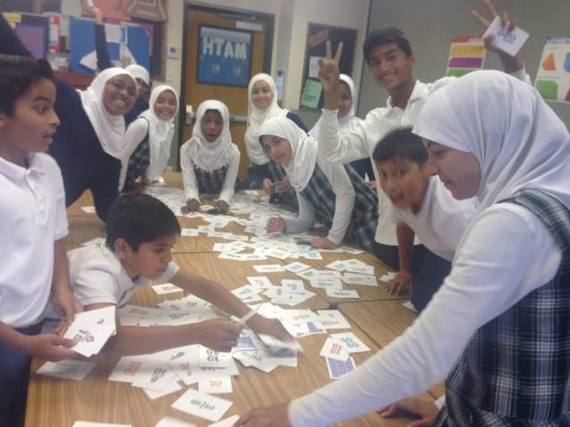 Principal Rima Mekdashi points out that building an Islamic as well as educational foundation is equally important for developing a "clear Muslim identity in students." The goal is students "to understand, appreciate and apply Islam in their everyday lives." This is reflected in school's Facebook page where a variety of student activities are featured ranging from science and math classes (the photo above) to performing at an assembly on "responsibility" (the theme for October this year).
An interesting feature of the Al-Huda Islamic School is that each month is devoted to a theme under which the activities are organized and culminate with an assembly where students perform songs and plays. That's why, on the day of San Bernardino massacre, alongside studying their regular curriculum, Al-Huda students were also rehearsing for the assembly of the month that was going to be held on Friday (December 4th).
The theme for November was "perseverance," while the theme for December is "caring." "The real image of Islam [is] mainly about helping each other, supporting each other, and being active members in the community where we reside," explains Principal Mekdashi.
Caring is inseparable from understanding and learning. Originally from Lebanon, Principal Mekdashi has been in the U.S. for around 30 years, and has a M.A. from Concord University. She clarifies that being an educated Muslim woman is not an exception. In her view, Islam supports education of girls and women, and "girls have a critical role in society." Inspired by Khadija bint Khuwaylid (the first wife of the prophet Muhammad and the first person to convert to Islam), Principal Mekdashi believes that instead of creating and perpetuating stereotypes about Muslims, people should learn more about Islam, its link to education, and the role of prominent Muslim women in history.
Fresh hair-cut, sweet pastry, traditional meal, children, active parenting, and effective school for both boys and girls - these are elements of a normal everyday life of the Muslim community in Hawthorne, Cal. that are more powerful than intolerance, violence, and fear. And, of course, one can't live without faith that, Inshalaah ("God willing"), tomorrow will be the same as yesterday and today, if not better. For non-believers though probably just a lesson from the Al-Huda students about responsibility, perseverance, and caring would be also enough.
-- This feed and its contents are the property of The Huffington Post, and use is subject to our terms. It may be used for personal consumption, but may not be distributed on a website.