If you've dined out recently, you've probably noticed the increasing appearance of raw fish on restaurant menus. While ceviche and crudo have been leading the raw movement, the Hawaiian dish "poke" (pronounced POH-kay) has recently graduated to trend-of-the-moment status, delighting diners from sea to shining sea. These raw seafood dishes originate from different regions, but what really sets these plates apart is the way they're prepared. Get to know the most popular raw fish dishes cropping up on menus across the country.
Why the rise in poke popularity?
No longer just an island dish, poke cropped up at West Coast restaurants just a few years ago and spread quickly across the country. There are a number of factors that worked in its favor in its rise to stardom. Raw fish is now widely consumed and accepted by many for its health benefits. Poke also marries two major food trends of the past couple of decades: sushi and grain bowls. It's convenient, easy to make and offers variety.
Understanding the Differences
Raw fish is popular in many parts of the world, including Latin America, Asia and North America. A variety of raw fish dishes exist, and it's the diversity of ingredients, sauces and flavors used during preparation that make each of them uniquely delicious.
Poke
So, what is poke? The term "poke" is a Hawaiian word that means "chunk" or "cut." Traditionally, the Hawaiian snack was a mix of raw tuna chunks, soy sauce, sesame oil and sliced green onions. Its rise in popularity has led to endless variations, with different types of seafood like salmon and yellowtail, plus sauces and garnishes like Japanese mayonnaise, wasabi, Sriracha, rice adding unique twists. What sets poke apart from other raw fish dishes, despite the many variations that now exist, is its cubed cut and simple Asian-influenced marinade.
Crudo
An Italian and Spanish word meaning "raw," crudo is how Italians enjoy uncooked fish: thinly sliced and drizzled with olive oil, an acid like lemon and seasonings. Crudo is an ingredient-driven dish and because of its subtle simplicity, the quality of oil used to enhance the fish is important.
Ceviche
A popular seafood dish in Latin America (particularly Peru), ceviche is made from raw fish that's marinated in lemon or lime juice and often tossed with fresh herbs, onions and chili peppers. The acidity of the juices lightly cooks the fish in the same way it would as if the fish were heated, changing its texture and taste. Because there's no heat involved, ceviche is served chilled or at room temperature. Snapper, halibut, seafood, shrimp and scallops are among the most common types of seafood used. Ceviche, which reached the United States in the 1980s, is generally more acidic and spicier than other raw fish dishes.
Raw seafood lovers can rejoice at the variety of dishes available on menus from coast to coast. Here are 13 delicious raw fish dishes that'll take you for a swim under the sea:
POKE DISHES
1. NOREETUH (New York)
Hawaiian hot spot Noreetuh knows how to perfectly deliver one of the island's most popular dishes, offering a fresh, bold bigeye tuna poke garnished with macadamia nuts, pickled jalapeños and seaweed.
2. A-FRAME (Los Angeles)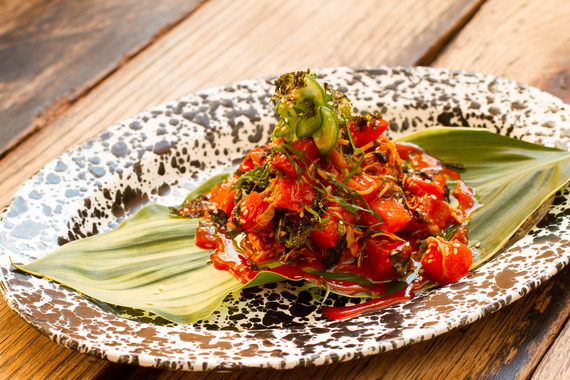 Photo provided by A-Frame. Photo by Eric Shin.
A Hawaiian soul food restaurant, A-Frame shows off acclaimed chef Roy Choi's creativity in its poke of the day dishes, which experiment with a variety of seafoods and toppings.
3. ARBELLA (Chicago)
Arbella features small plates and snacks from around the world, including an ahi poke with tuna marinated in soy sauce, ginger, sesame oil and egg yolk, to pair with its notable cocktails.
4. GRILL 23 (Boston)
Grill 23 features a Tuna Poke on its bar menu that's spiked with bourbon barrel aged fish sauce and Sichuan spiced peanuts for a bit of savory, exotic flair.
CRUDOS
5. THE METROGRAPH COMMISSARY (New York)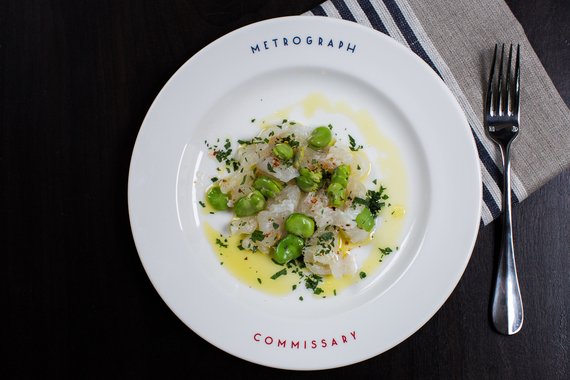 Photo provided by The Metrograph Commissary. Photo by Mirella Cheeseman.
A light, refreshing appetizer, the fluke crudo at The Metrograph Commissary is brought to life with fava beans, chili de arbol (a small and potent Mexican chili pepper) and citrus.
6. WOLF (Los Angeles)
Reflecting the restaurant's seasonal, market-driven approach, the hamachi crudo at Wolf is decorated with nuoc cham (Vietnamese dipping sauce), kumquat (a small citrus fruit that grows in climates too cool for other citrus plants), radish, herbs and puffed rice.
7. BAR MEZZANA (Boston)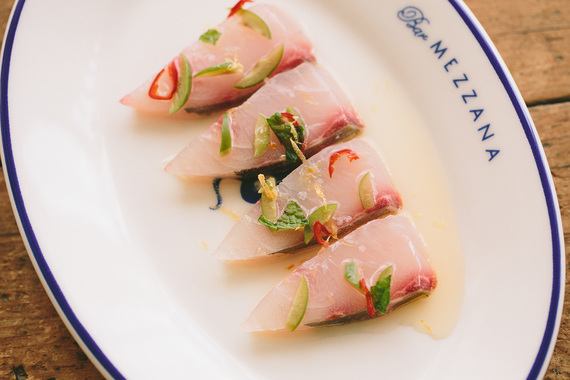 Photo provided by Bar Mezzana.
Bar Mezzana delivers a coastal Italian-inspired menu that focuses on a daily changing crudo selection and handmade pasta. The crudo list runs the gamut of seafood -- yellowtail, sea bream, bluefin team, striped bass and more -- prepared with fresh garnishes like grapefruit oil, caviar and green apple.
8. SUSHIKO (Washington D.C.)
Before diving into the restaurant's signature sashimi (very fresh raw fish with typically no garnishing), do a side-by-side comparison of different raw fish dishes with Sushiko's delicious cold tastings. These include a refreshing hamachi crudo with yellowtail, grapefruit and serrano pepper, a light shirome carpaccio (seasonal white fish) with myoga (Japanese ginger) and olive oil, and a more briny salmon ceviche with ikura (roe), red onion and yuzu (an East Asian citrus fruit) vinaigrette.
9. FAIRSTED KITCHEN (Boston)



Photo provided by Fairsted Kitchen.
Fairsted Kitchen prepares its daily crudo dish depending on the market fish of the day, choosing garnishes like radish, avocado mousse, jalapeño and/or chraimeh (a blend of sweet and spicy tomato and chili) vinaigrette to enhance the flavors.
10. KINGSLEY (New York)
Offering a dynamic, market-driven French-American menu, Kingsley delivers a razor clam crudo with artichoke, brown butter, lemon, cynar (an Italian bitter liqueur made from 13 herbs and plants, predominantly artichoke) and shiso (an Asian plant in the mint family).
CEVICHES
11. PEPITA CANTINA (Washington D.C.)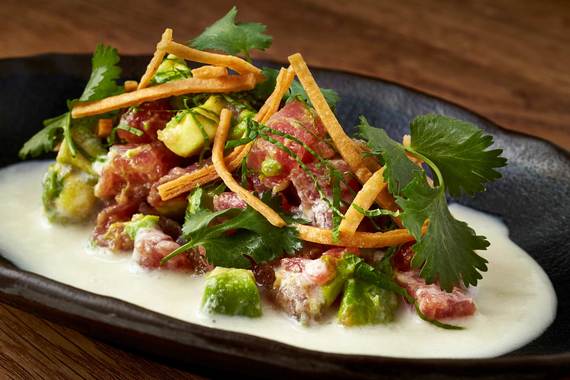 Photo provided by Pepita Cantina. Photo by Greg Powers.
Pepita Cantina marinates its tuna in coconut curry and lime and tops it with avocado and corn nuts to deliver a unique, tasty ceviche.
12. PETTY CASH TAQUERIA (Los Angeles)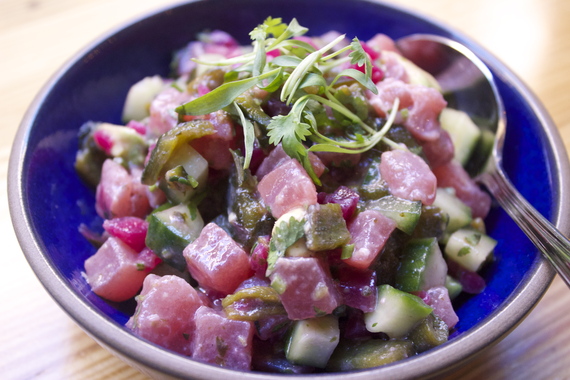 Photo provided by Petty Cash Taqueria.
One of many highlights of Petty Cash Taqueria's innovative Mexican street food menu is its ceviche bar, which uses simple, traditional garnishes to allow the flavors of its seasonal catches like hamachi, shrimp and sea bass to shine through.
13. COMODO (New York)
Offering refined Pan-Latin plates drawn from Mexican, Spanish and South American recipes, Comodo prepares its ceviche based on what's fresh. It's currently serving a salmon ceviche with burnt tortilla, lime juice, serrano, avocado and pickled onion.
14. COPITA (Sausalito, CA)
Copita, located just north of San Francisco in Sausalito, dedicates a section of its Mexican menu to raw fish, offering seasonally driven selections. Choices include a charred chile ceviche with sea bass, white radish, cucumber and other herbs, a kumquat and borage (a flowery herb) ceviche with flounder, fennel, onion and serrano, and a sea bass citrus crudo with blood orange, Cara Cara orange and rosemary oil.
You might also like:
15 Sausage Dishes to Take You Around the World
4 Reasons to Get Caught With Your Hand in the Pickle Jar
Not Just for Breakfast: 12 Bomb Bacon Dishes
For all the latest on food, drinks and restaurants, visit the Reserve blog and follow us on Twitter, Facebook and Instagram.
-- This feed and its contents are the property of The Huffington Post, and use is subject to our terms. It may be used for personal consumption, but may not be distributed on a website.
Source: Elder Care Huffington Post