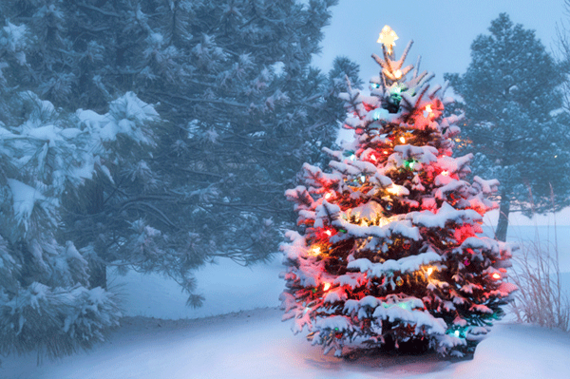 For many of us, the "most wonderful time of the year" can also be stressful. As the holiday to-do list gets longer, taking care of ourselves falls farther to the bottom. It's ironic, because the holidays also provide some of the biggest pitfalls for self-care: rich food, alcohol, tension around spending money and uncomfortable family relationships, to name just a few. But you can keep your balance, if you make the effort to carve out time for getting back in touch with yourself and what you need. Here are four practices for staying centered during the holiday season.
Tune in to your body. In the midst of the busyness and outward pull of the holidays, it's easy to lose touch with your regular routines of exercise, sleep and healthy eating. One way to stay grounded is to cultivate awareness of your physical sensations and needs. "The path of self-care often begins with the simple question: Am I getting enough rest and nourishment?" says Randal Williams, a Kripalu Yoga teacher and outdoor guide. "Repeating this question can increase your sensitivity to the needs of the body, drawing you into the exploration of what you might need to do differently."
Practice mindfulness. Learning to slow down and appreciate each moment, rather than rushing through one task after the next, is a game changer. When you take the time to notice your experience instead of getting caught up in thoughts of the past or worries about the future, you're essentially recharging your spiritual and emotional batteries. "When your mind strays and you notice it, you have actually just come out of a thought, and you can recognize that sense of presence and wakefulness," says Cyndi Lee, creator of Om Yoga. "Let your mind rest in that space." Mindfulness practice supports you in looking at the world with fresh eyes -- seeing "the miraculous in the common," as Ralph Waldo Emerson put it.
Ask for help if you need it. Don't try to be a superhero. It's actually a gift to others to allow them to shoulder some of the burden. "Give yourself permission to ask for and receive help, whether it's with cooking, socializing or hosting family," says Renée Peterson Trudeau, a life balance coach and author of Nurturing the Soul of Your Family: 10 Ways to Reconnect and Find Peace in Everyday Life. "Be willing to let go of tradition for the sake of enhanced emotional well-being. What are three things on your plate right now that you could delegate or outsource?"
Seek authentic connection. The holidays are known for catalyzing tension between family members, often because our expectations of each other and of our time together are unnaturally high this time of year. To develop compassion and understanding, we can draw from the therapeutic technique known as mentalization. Dr. Michel Mennesson, a psychiatrist at Newport Academy, describes mentalization as "an imaginative process in which you explore another person's point of view." Try to visualize where your loved one is coming from and how what they're experiencing might be impacting their behavior, rather than taking their actions as a personal attack on you. That shift might be the best gift you can give them -- and yourself -- this holiday season.
-- This feed and its contents are the property of The Huffington Post, and use is subject to our terms. It may be used for personal consumption, but may not be distributed on a website.