by Viva Dadwal and Michael O'Shea
How many of you have lost your interest in the night sky because you think there is too much light pollution where you live? Excessive artificial illumination robs urban residents of a sky that has educated and inspired humankind for thousands of years. Because of the ubiquitous orange glow of street lamps, generations of children never grew up marveling at the Milky Way or wondering about the movement of hundreds of stars above.
"Dark skies" are thus an important but vanishing environmental resource. With urbanization, light pollution will only worsen. Commendably, there are groups such as the International Dark-Sky Association that are advocating for less light-polluted skies, including by working with municipalities to implement more efficient lighting. Unfortunately, missing from these groups are broader discussions about how to access the night sky in a safe and inclusive way. Do populations think about lighting and safety in different ways? If so, what should be done about it?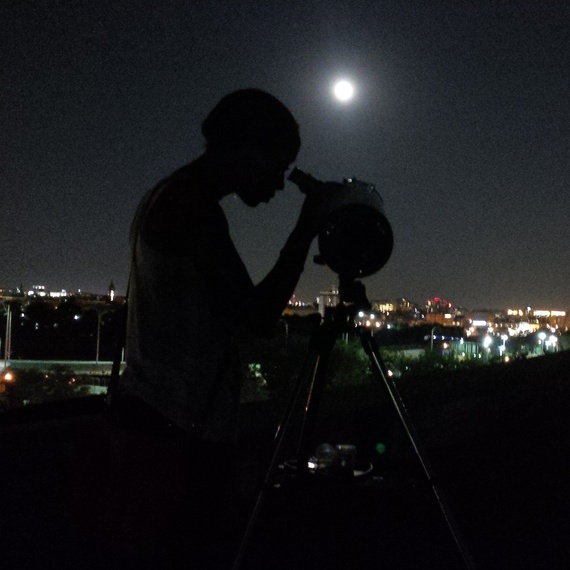 Above: Daniela looks at the moon in Druid Hill Park in Baltimore, Maryland.
Our experiences with #popscope, a community-based public astronomy movement, illustrates the need to take a deeper look at the nexus of light pollution and public spaces. The recent Huffington Post piece by Kate Abbey-Lambertz on making cities less dangerous and more livable for women struck a note. We write this article in response to real and perceived concerns we have experienced on the streets, wishing to highlight voices that can be lost in the push for darker skies and energy-efficient lighting.
Today, there is a broad consensus among designers, policymakers and urban residents that public spaces -- sidewalks, parks, piers, and plazas -- are good for people, for cities, and for the environment. They create venues for casual and planned social interactions, a predictor of physical health and social well-being. Green public spaces, such as parks, have been shown to reduce stress and provide opportunities for exercise and recreation. However, do all populations have the opportunity to enjoy public spaces? What about after dark?
We have seen how, compared to men, women do not feel comfortable using public spaces at night, alone or with other women, for fear of harassment, assault, or other crimes. Women of all backgrounds may harbor this fear, but women of color, low-income women, or women with disabilities may have the hardest time accessing such locations (UN Women, 2015; Gallup Poll, 2012; The Safe Women Project, 1999). Consequently, warnings to "not to go out at night" are often coupled with "stay in well-lit areas." We hear these safety concerns as much within our own team as we do from attendees in the various cities where we operate. (Admittedly, some cities are safer than others). Although we work in groups and with community partners to create as safe an atmosphere as possible, most of our conversations with attendees involve one common denominator: street lighting.
Will having "darker" public spaces ensure better views of the night sky for some, but deter others? As young amateur astronomers who promote astronomy to build community, we personally struggle with how best to improve women's access to 'dark skies' in urban public spaces. That women are underrepresented in astronomy fields gives us further pause. Does an inability to safely view the night sky -- where you want, when you want to -- impact the curiosity and ambition of young girls? Are there gender-based differences in how men and women have come to perceive the words "well-lit" '? Do real and perceived safety risks of dark public spaces have unintended consequences for women's entry into astronomy and other science-related fields?
We need to think hard about how cities are designed, the conversations that produce those decisions, and who is part of those conversations. This dialogue should not just occur between astronomers and urban planners, but also social workers, survivors, community activists, law enforcers, and mothers. In our view, any conversation about urban lighting should include the voices of everyday extraordinary women and their experiences navigating night-time urban public spaces. We can give every child and adult in every city park, plaza, and sidewalk a view of Jupiter's moons or the Moon's craters. Let's make sure that we do so inclusively.
Viva Dadwal and Michael O'Shea are two friends who, in 2014, started a urban astronomy movement called #popscope. #Popscope events are held in public spaces with the aim of reconnecting diverse communities to the night sky and to each other through free, "pop-up" astronomy. Today, #popscope team members can be found in Ottawa, Philadelphia, Baltimore, Jacksonville (Florida), and New York City.
-- This feed and its contents are the property of The Huffington Post, and use is subject to our terms. It may be used for personal consumption, but may not be distributed on a website.
Source: Elder Care Huffington Post