When we partnered with Levi Strauss & Co. to seek out and support young environmental leaders for a second year (read more about how the program works here), we knew that our team of grant makers would each connect us to extraordinary young people fighting for a better future for our planet. What we didn't anticipate was the diversity of the solutions that they would uncover.
For the past 4 months across 5 countries, our team has held community meetings, worked the phones, had countless conversations, and traveled miles to find and support young environmental heroes. And the news is good!
Working on issues like local food production and food security, clean water access, protecting biodiversity with indigenous seeds and plants, and raising the next generation of youth environmental leaders- our latest Youth Environmental Grants paint a picture of young leaders re-imagining what it takes to build resilient and sustainable communities from the grassroots up.
Stay tuned - our team is still out there making grants as you read this!
Elson-n Auquel, Agri-venture Savanette
After seeing sustainable agriculture replaced by commercially driven mono-cropping in his native Haiti, Elson-n Auquel recognized that the health of both the people and the land of Haiti were being destroyed by these practices. Determined to reconnect young people to the land by showing them how they can revitalize the health of their communities and Haiti's fertile soils together, he and his team founded WHYFARM. An interactive, innovative, and fun 2 month 'agri-venture' camp, WHYFARM teaches young people how to produce sustainable, healthy food, while also making growing crops cool again!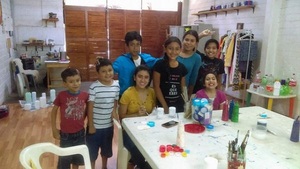 Valeria Monserrath Ortega Salazar and Lia Deside Villa Salazar, MONLIB, Reworking Trash To Help Marine Life
Although so young that they do not yet have a bank account, Valeria and Lia can already see that the thousand tons of trash produced daily by their Metropolitan community in Guadalajara, Mexico has serious implications for the health of our oceans. Working in community centers and involving their peers, they created MONLIB, an organization which seeks to reduce the future impact of waste by educating young people about reducing and reusing, while also addressing the current situation with imaginative recycling projects which involve producing jewelry and other crafts from trash.
M. Iwan Kurniawan, Conservation of Native Herb and Spice Plants to Preserve Acehnese Traditional Culinary
In the lush Northern region of Sumatera in Indonesia, one of the last primary rainforests on earth is facing the threat of deforestation. As the forests are destroyed, so to is the culture of the people who have called them home for generations. Recognizing the deep interconnection between these cultural and environmental catastrophes, biology major M. Iwan Kurniawan came up with a plan that incorporates local knowledge preservation with the conservation of biodiversity within the forests. Seeds will be collected and preserved, and traditional food and medical preparations of plants will be archived and shared on a website so that these precious species and knowledge will not be lost.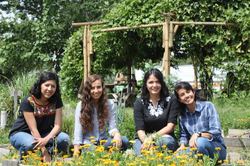 Irma Patricia Espinoza Magaña, Eduación Ambiental para Todxs/ Environmental Education for All
In the neighborhood of Santa Margarita, in the city of Zapopan, Jalisco, Mexico, four passionate women are working to change their streets and schools by inspiring youth to protect and care for the environment. Working with young people who receive little environmental education, The Environmental Education Project for All is teaching young people environmental stewardship through community gardening, and giving them the skills to carry out an environmental impact assessment of their school - laying the foundation for them to incorporate an environmental perspective throughout the rest of their personal and professional lives
Peninah Wangithi Wanjohi, Dagoretti Market Bio-Latrine Water Kiosk
After successfully revitalizing a public meeting space, Peninah and her team are now set on turning it into a touchstone for environmentally sensitive community driven development in urban Kenya. Through the construction of a latrine block which will produce biogas, and the installation of a water kiosk, they will be bringing essential services and providing clean water to hundreds of people each day who are currently forced to drink dirty and contaminated water from dubious sources. Youth from the community will staff these facilities, providing much needed income and demonstrating that it is possible to lift up communities economically while caring for the environment.
Talia Schmitt and Mashaba Rashid, Eco-Schools Leadership Initiative
In Virginia the Eco--Schools Leadership Initiative is taking a hands-on approach to environmental education in communities who often do not receive exposure to these kinds of lessons. Recognizing that getting kids engaged in problem-solving is the best way to produce young leaders, ESLI partners elementary school students with high school and college mentors to solve environmental problems facing their communities - including things like water sampling and run off reduction. These partnerships are a win-win: the program skillfully weaves the education of very young children with the creation of an emerging cohort of environmental educators.
Lucky Mwachi, Join the Pipe
It's hard to imagine 400,000 people using a single park on a daily basis. Yet in Uhuru park in Nairobi, this is far from extraordinary. However, until recently people using the park were forced to either drink contaminated water, or, if they were wealthy enough, to purchase bottled water. The Join The Pipe project is changing that with the installation of a drinking water station which will provide clean and safe water that is affordable for everyone while also reducing the plastic bottle waste which plagues the park. It is projects like this that will bring clean water to the 56% of people in Kenya who currently lack access.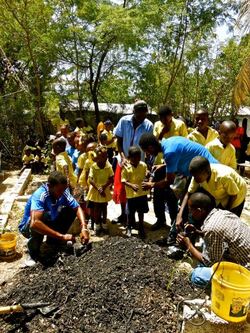 Samuel Cadet and Winter Luc, Plantons pour le futur!
Following the 2010 earthquake in Haiti, the sprawling slum of Cité Soleil was badly afflicted by cholera, and remains heavily polluted and lacking essential infrastructure. Politically and socially marginalized, youth in this urban neighborhood often struggle to connect with the natural world. Partnering their community garden and school programs, Samuel and Winter seek to rebuild and inspired and connected community of young people who will ensure a better and healthier future for themselves and their country.
Dejah Powell, Get Them to the Green
Get Them to the Green is an organization in Chicago which inspires students from diverse communities to be changemakers and leaders within their communities and beyond. G2G founder Dejah Powell believes that if we want children to protect the planet in the future, then it is essential that they learn to love the environment from an early age. To engage these young environmentalists, G2G runs summer camps and partners with schools to connect them to the beauty of the natural world while showing them how environmental science is taking place all around us.
Along with our partners at Levi Strauss & Co., and our global team of grassroots grantmakers, we are so proud to fund these innovative young leaders.
Do you have a project that can change the world? We welcome grant applications for Pollination Project seed grants, every day.
-- This feed and its contents are the property of The Huffington Post, and use is subject to our terms. It may be used for personal consumption, but may not be distributed on a website.
Source: Elder Care Huffington Post