Elizabeth McGovern thinks the lord of the manor on Downton Abbey has in some ways been its most overlooked character. Both she and the lord hope the upcoming sixth and final season will help remedy that oversight.
McGovern plays Cora, an American heiress who married British Lord Robert Crawley, played by Hugh Bonneville. In return for making her share of the family fortune available to keep the centuries-old estate afloat, she became Lady Grantham.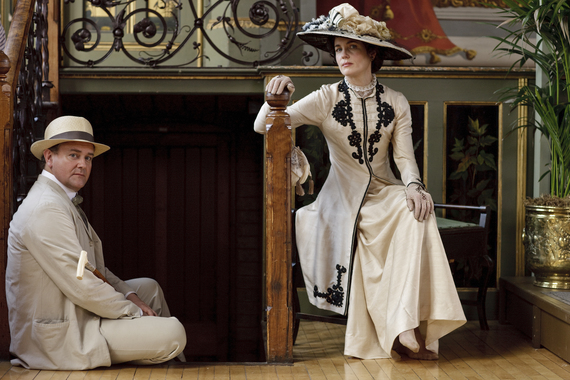 For most of the series, Lord Grantham has hardly come across as the decisive, strong-willed British aristocrat of yore. He's made several terrible financial decisions and he's often seemed adrift when it comes to his primary mission, which is preserving Downton for the next Crawley generation. Yet he's clearly a decent man and in spite of the entitlement to which he was born, viewers like him and want him to succeed.
"I don't think Hugh has gotten nearly enough credit for the way he's played Robert," says McGovern. "I mean, Robert doesn't really do anything. He can be a bit of an idiot. But Hugh has made him into a character people really care about."
Bonneville says viewers can expect a rejuvenation of sorts when the sixth season of Downton Abbey begins its U.S. run Jan. 3 on PBS.
"In the final installment he's more like the Robert of series one," says Bonneville. "He's the benign dictator.
"He has to become that again, because he's had to adapt or die. What's at stake is his one lifelong job - preserving the family legacy. He knows that. He has stared it in the face and he accepts it.
"After the first series, it felt like his IQ plummeted. But I think you'll see he's somewhat recovered."
Of course, Bonneville jokes, there's also still time for Robert to take the easy way out. After all, there's no law that says he has to hang around Downton and see if follows several large neighboring estates into bankruptcy.
"With [his daughter] Lady Mary [Michelle Dockery] running the estate and her son George in place as the heir," Bonneville points out, "Robert could just retire to the South of France."
Don't take that as a spoiler. Even though the series wraps up in the U.K. on Christmas Day, everyone involved maintains a vow of silence on this side of the pond concerning the upcoming endpoint.
McGovern says only that fans will not be shortchanged.
"Every character gets a chance to say goodbye," she says. "So the audience can say goodbye, too, and you get a sense what everyone's future will hold."
Looking back, Bonneville says the death of Mary's husband Matthew (Dan Stevens) at the end of season three has indirectly propelled much of the show's second half, because of what Stevens's departure required writer Julian Fellowes to do in response.
"Matthew's death gave Julian a chance to develop more characters," says Bonneville, including both a succession of suitors for Mary and various players who either filled Matthew's other roles or just got more screen time.
"In a way, Matthew's death resolved a classic problem of drama," says McGovern. "You spend so much energy hoping two people get together, as we did with Matthew and Mary, and then when they finally do, what happens next? All the energy is dissolved.
"So while we hated to see Dan leave the show, Julian was able to transfer that energy elsewhere."
As for Cora, McGovern notes that she has gradually become more assertive over the course of the show, reflecting how many women of the era were coming out of the shadow of their menfolk.
"Remember that Cora has also been responsible all along for the family stuff," she says. "Although Cora has not been what you'd call a helicopter parent. She's probably not someone who thinks about what she didn't do with her life."
It's also important, say both Bonneville and McGovern, to remember that Downton Abbey isn't a somber academic analysis of these characters.
"There's been a building sense of humor through the whole series," says McGovern. "I think that's why it's fun. It's humor with a subtle edge."
"Some of the plot points may have seemed a little extreme," says Bonneville. "Like the death of Mr. Pamuk. But they have played well."
-- This feed and its contents are the property of The Huffington Post, and use is subject to our terms. It may be used for personal consumption, but may not be distributed on a website.