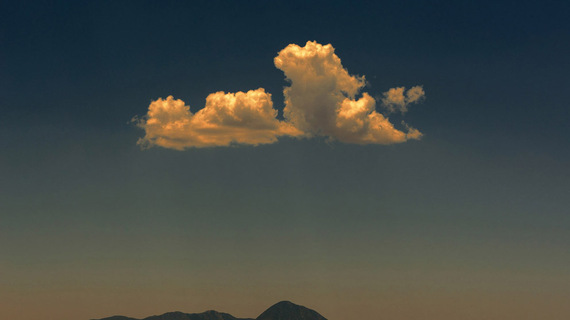 It was there, as I sat clutching my ear in pain, in a rundown hospital in Madrid, that I met the man in the wheelchair.
The pain started around 2 in the morning, the day I was suppose to fly back home. I had come to Spain three weeks earlier in an attempt to clear my head from the complex thoughts that had been plaguing my mind. I thought that a daring solo adventure in Europe would rid me of the loneliness and confusion that I had been feeling.
I had spent many years feeling lonely, with only the movies of my fictional boyfriends to keep me company. However, much to my surprise, there came a point when even Ralph Fiennes, Kenneth Branagh, and Gary Oldman could not fill that special gap in my heart; the gap that yearned for adventure and passion.
So, at 17 years old, I convinced my parents to let me spend a month in Spain to study literature. I arrived excited to take advantage of my newfound freedom and ready for an adventure of a lifetime. Perhaps I expected a bit too much. It was nothing like I expected it to be. The days passed by slowly. The heat would reach 106 degrees at 10 at night. With no air conditioning in my building, I was forced to sleep naked. And instead of thinking about how lonely I was in New York City, I was now thinking about it in Madrid.
The weeks passed and no sort of enlightenment came to me. It was only the night before I was suppose to go home that things started to get interesting. That night, I started to feel sick. I, being the medical expert, concluded it was because of the heat and thought nothing of it. It was at 2 in the morning, with my headache worsening and a strange, sharp pain in my ear beginning, that I decided to wake up one of my roommates. In tears, I told her that I was feeling quite ill and that I needed to find a hospital. Yiwen, my lovely roommate who I had become quite close to, opened up her Madrid guide book and started looking for emergency rooms. Once she found the closest one, I bid her adieu and set off into the dark streets of Madrid to find a taxi.
I walked around for about 40 minutes, the pain becoming more excruciating every second, until I finally found one. About 10 minutes later, we pulled up to a dimly lit building on an empty street. I got out of the car and he sped away. Everything was quiet. There was no movement in the building. I walked in cautiously, my backpack slinging off my shoulder and my shoes untied.
As I looked around, however, I realized that I was completely alone. There was no one at the front desk, and no patients sitting in the chairs. It was as if I had slept through the apocalypse. I walked around the empty building for what seemed like an eternity until I heard laughing. I ran to the direction of the noise to find two old ladies, both with poorly drawn on lipstick, sitting at a counter. I asked them where I could find the emergency room. They both ignored me and instead starting talking about their unsatisfactory love lives. Annoyed, I resorted to the only thing I knew would catch their attentions. I started to cry. One of them looked at me and in a nonchalant manner informed me that the emergency room was 3 blocks in the other direction. I set off once again into the dark streets, praying that with my poor sense of direction I would somehow end up at my destination safely.
Somehow I found my way there. By this time, I was crying non-stop, the pain becoming too much for me to handle. Once inside, I met another lovely old lady at the front desk who forced me to wait half an hour while she talked on the phone with a girlfriend named Blanca. With this type of service, I came to the conclusion that by the time I saw a doctor I would be in my grave. It was then I decided I would have to put my acting skills to good use if I was ever to be seen. I went up to a male nurse, a young man in his 20s, and told him I was going to faint. He looked at me, his eyes widening, and in a weak voice said "Oh, please don't!" I did anyway. The poor man, obviously new to the job, frantically took me to sit down in what he called the "VIP" area.
This VIP area included a crumbling floor, a giant wad of gum on the ceiling (I wasn't in the mood to ask how it got there), and a leaky faucet. The pain became so excruciating that I started to hyperventilate. I could not stop myself and thought for sure I was going to faint - this time for real. As I was trying to calm myself down, my face red and soaked with tears, I heard a soft voice say, "It's going to be OK, beautiful. Calm down." I looked up to find a man in a wheelchair. He was a man in his late 40s, extremely skinny, with a very handsome face. He looked as if he had not slept in months. "What's your name, love?" he asked me. I stuttered out my name, trying to keep it together. He stared at me for a couple of minutes, studying me with an intensity that I had never seen before. He smiled kindly and said, "Everything passes, Camila." I looked up at him, my eyes filled with tears. I was silent. I wanted to believe him. "In two days this will be just another memory. The pain doesn't last forever, beautiful." A few seconds later a nurse took him away, claiming he was a fire hazard. I watched as he was engulfed in the darkness of the hallway. I didn't see him again.
I walked out of the hospital later that morning exhausted, my eyes bloodshot, and still trying to process the events of which had just occurred. It was over.
With the hospital tag still wrapped around my wrist and a prescription for my ear infection dangling from my hand, I walked out to find the morning sky a stunning shade of pink. I had never been happier to see the morning than I was at that moment.
As I walked out onto the deserted streets of Madrid, welcoming the sunrise, I felt like everything was going to be alright. That the confusion, anger, and loneliness I felt were just a part of life. That one day, they would be just another memory, just another lesson, just another story.
The man in the wheelchair was right. You will get over the pain you feel. Whether it be heartbreak or failure, loneliness or confusion, it will pass. We must remember to be strong even when we feel we have hit rock bottom.
I thought many times that the loneliness I felt would be with me forever. Yet, when I looked back to the night I spent in that hospital in Madrid, and the excruciating pain I felt, I remembered one thing: It all passed. And with that, one day my loneliness would pass as well. It has taken me a long time to accept this, but it is a lesson we should all learn: Whatever it is you are going through, it will be alright in the end.
Photo: Adriana Echavarria Photograpy
-- This feed and its contents are the property of The Huffington Post, and use is subject to our terms. It may be used for personal consumption, but may not be distributed on a website.