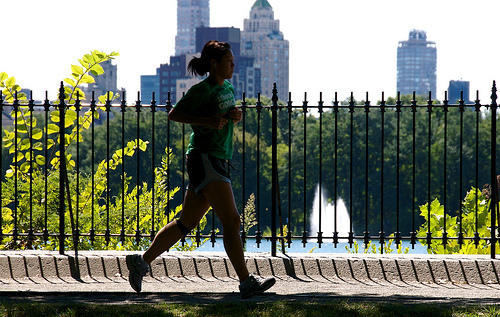 What summer is to the blockbuster movie, winter is to the blockbuster album. With record labels competing for your holiday loot, the marketplace is flooded with new releases from the biggest acts on their rosters. While this wealth of new music is great if you're hitting the mall looking for gifts, it's just as great if you're hitting the gym and looking for new tracks.
In the mix below, you'll find new singles from Top 40 regulars like Coldplay and Missy Elliott. There are also remixes of smash hits from Selena Gomez and The Weeknd. Elsewhere club favorites like Audien and Rudimental create cross-genre collaborations with Lady Antebellum and Ed Sheeran. Lastly, you can hear Megan Trainor break from her signature style with a tropical tune from The Peanuts Movie.
The strength of this month's mix is its simplicity: big acts, catchy choruses, good vibes. The end of the year is plenty hectic on its own -- without additional challenges in the workout music department. So, don't overthink it. Just try a few tracks below, then make a few tracks through the snow.
Here's the full list, according to a poll on Run Hundred -- the web's most popular workout music blog.
Missy Elliott & Pharrell Williams - "WTF (Where They From)" - 120 BPM

Daya - "Hide Away" - 95 BPM

Grimes - "Flesh Without Blood" - 156 BPM

Coldplay - "Adventure of a Lifetime" - 113 BPM

Selena Gomez & A$AP Rocky - "Good for You (Phantoms Remix)" - 119 BPM

Audien & Lady Antebellum - "Something Better" - 126 BPM

Rudimental & Ed Sheeran - "Lay It All on Me" - 123 BPM

The Weeknd - "I Can't Feel My Face (Martin Garrix Remix)" - 127 BPM

Meghan Trainor - "Better When I'm Dancin'" - 128 BPM

Andy Grammer - "Good to Be Alive (Hallelujah)" - 120 BPM
Check out this month's top 10 workout songs on Run Hundred: www.RunHundred.com.
For more by Chris Lawhorn, click here.
For more from HuffPost Workouts, click here.
Also on HuffPost:
-- This feed and its contents are the property of The Huffington Post, and use is subject to our terms. It may be used for personal consumption, but may not be distributed on a website.