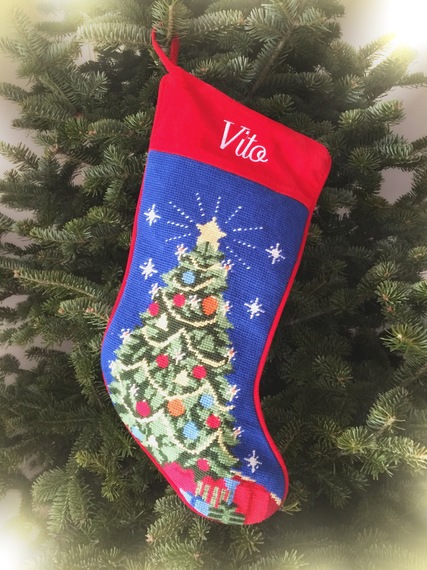 To the empty stocking, and unlit tree,
Last year, you hung off an IV pole decorated with tinsel and bows. Our tree at home was decorated, yet went a month without anyone around it. On Christmas Eve, we packed a little room at the Sheraton. Three of our sons fell asleep at the hotel, while I tucked our Vito in his crib at the hospital.
I ran back to the hospital after everyone was asleep. In utter fatigue, we decorated the hotel room. Excitement built all night, as a winter wonderland formed before our very eyes. A winter wonderland made capable because our friends spoiled us and loved us and packed our room with so much love.
Christmas morning was as magical as they come. Santa stopped by. Three Skaro boys woke up in awe of the magic of Christmas. Vito woke up in his hospital crib, waiting patiently for his brothers but could feel the buzz of the day.
Everyone rushed to Children's and we waited for the ok. The ok to take Vito on pass, a couple hours away from the hospital, to the hotel down the road.
Our day was filled with presents opening and food brought to us by dear friends.
Yet, every breath of that day, I wished for the next year. The next Christmas. A Christmas where my 1 year old didn't have cancer.
That Christmas never came. Our Vito's cancer relapsed and he passed away the day before Thanksgiving this year.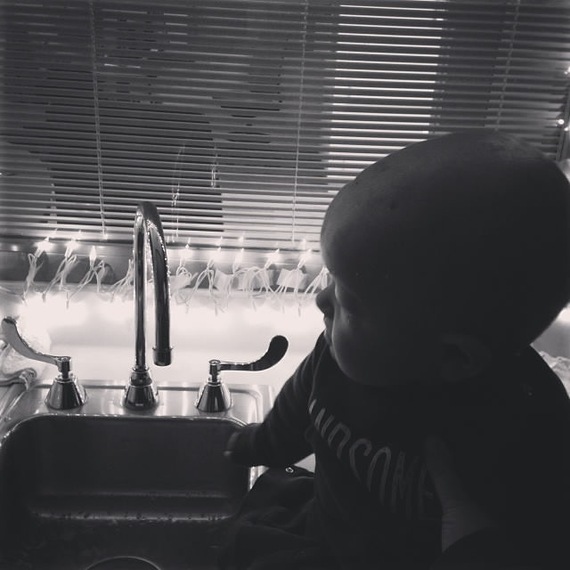 When I look back on that Christmas, we don't have a lot of pictures. When we went to see Santa at the mall, we were so excited to see him and balance four boys with Santa and hiding Vito's feeding pump and TPN IV fluids behind Santa's sleigh. By the time we got the professional picture, my husband and I forgot to take one for ourselves. We since lost those pictures somewhere in the hustle of the year.
At the hotel, there was a moment where I was trying to get the perfect picture to send as a thank you to our friends. Vito was fading fast, our two month old was having a choking episode and I just lost it. I started crying and yelling that I just wanted a picture. My husband took a picture and turned our phones off. We didn't have any more pictures, but that one picture is perfect. Truly perfect. I was in that moment. Soaking up every moment of that day. For that I will be ever grateful.
This year Christmas is hard. We bought a tree, yet haven't been able to decorate it. It holds six ornaments, one for each of us, and Vito's stocking. We have presents, thanks to friends who went shopping for us. Any trip down a toy aisle this month has brought a crippling pain and tears, sometimes I am unable to make it out of the store without crying.
Our Vito will have one present under the tree. A train ornament, with a picture of him before his cancer relapsed, riding a train at the Eden Prairie mall.
Christmas will be Vito's one month "angelversary." I am not prepared for it. Yet, at the same time, I have a 9-year-old, 4-year-old and 1-year-old who all deserve a magical Christmas, even when their mother and father feel they are unable breathe.
In social media, there are debates on how many presents are too many, the modesty of a gift from Santa. In the real world, none of these debates matter. If you decide to stack presents so deep a Christmas tree can't be seen, that's your decision. If you go more for a laid back Christmas, it doesn't matter. None of it matters. The only thing that truly matters is being present. Put down your phones, don't view Christmas through your camera, but rather absorb it through your soul. For that feeling will never go away.
I will always miss seeing our Vito's face on Christmas morning. But, I will never regret the last Christmas we had with him because when I close my eyes I can still hear all four of my boys giggling. I can feel the warmth from their smiles. I can still remember the pure joy and bliss of laying in bed with four amazing Skaro boys cuddled around me in their Christmas pajamas.
So to the empty stocking and unlit tree, this year you may look alone up there. But, you are not truly alone for you are filled with my memories of Christmas past and you will hold the memories of our Christmas future.
Love,
Vito's Mom
Learn More about Vito's Journey!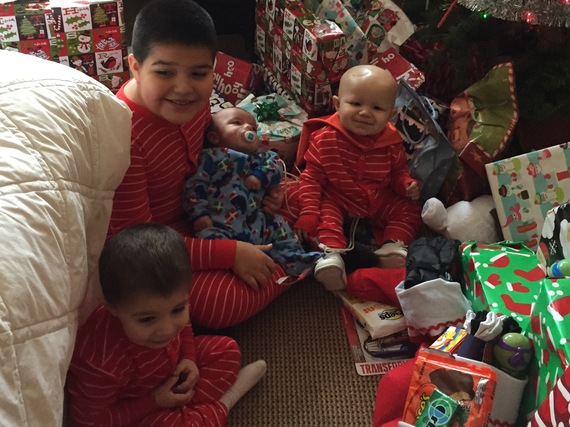 -- This feed and its contents are the property of The Huffington Post, and use is subject to our terms. It may be used for personal consumption, but may not be distributed on a website.