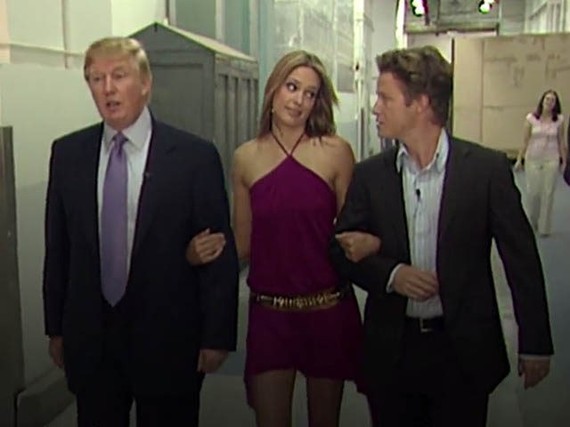 Let's start with Donald Trump's wife, Melania.
That seems like a good starting point for a story about a guy running for president who has bragged of grabbing other women -- actually "bitches," in his words -- by their private parts and taking them down for sex, though admittedly failing to win over one even after taking her shopping for furniture. That's the daily story today about Trump, who has managed to place obscene four- and five- letter words on the front pages of newspapers the day before a nationally televised debate with Hillary Clinton that he really must win to remain in contention for president of the United States.
In a statement issued today, Trump's third wife said:
"The words my husband used are unacceptable and offensive to me. This does not represent the man that I know. He has the heart and mind of a leader. I hope people will accept his apology, as I have, and focus on the important issues facing our nation and the world."
Take note, also, there is no comment here from anyone but Republicans.
There's Trump running mate Mike Pence, who by most accounts prevailed with a calm demeanor and seasoned political skills in his one-and-only debate with Clinton running mate Tim Kaine -- performing better than the party's nominee managed to during his first encounter with Clinton.
"As a husband and father, I was offended by the words and actions described by Donald Trump in the eleven-year-old video released yesterday," Pence said today of the hot-camera, hot-mic words recorded in Trump's self-described "locker-room banter'' with Hollywood Access' Billy Bush in 2005 -- footage reported only now by the diligent Washington Post reporter, David Farenthold, who has spent months unraveling the myth of the Trump Foundation as a charitable enterprise.
"I do not condone his remarks and cannot defend them,'' Pence said. "I am grateful that he has expressed remorse and apologized to the American people. We pray for his family and look forward to the opportunity he has to show what is in his heart when he goes before the nation tomorrow night."
Republican National Committee Chairman Reince Priebus, whose "Victory" program reportedlyhas put a "hold on all projects" for Trump's candidacy today, had this to say last night about Trump's sex talk: "No woman should ever be described in these terms or talked about in this manner. Ever."
House Speaker Paul Ryan, the Wisconsin Republican, uninviting Trump from a rally in his home state today, offered this comment:
"I am sickened by what I heard today. Women are to be championed and revered, not objectified. I hope Mr. Trump treats this situation with the seriousness it deserves and works to demonstrate to the country that he has greater respect for women than this clip suggests."
Senate Majority Leader Mitch McConnell, the Kentucky Republican whose fighting to maintain control of his chamber in an election that could cost his party several Senate seats -- largely because of Trump's place atop the ticket:
"As the father of three daughters, I strongly believe that Trump needs to apologize directly to women and girls everywhere, and take full responsibility for the utter lack of respect for women shown in his comments on that tape."
Then there's Sen. Kelly Ayotte of New Hampshire, one of the Republicans McConnell has been hoping to save. For months, she's been waltzing around the Trump problem in her party. She holds but a 2 percentage point edge over her Democratic rival in a state where Clinton is leading Trump by five, in the average of the latest polls. The dance stopped today:
"I wanted to be able to support my party's nominee, chosen by the people, because I feel strongly that we need a change in direction for our country," Ayotte said in an issued statement. "However, I'm a mom and an American first, and I cannot and will not support a candidate for president who brags about degrading and assaulting women."
Now Trump has made his own new video, offering a statement issued after midnight. Considering what all these people within his own party have had to say about the Billy Bushwhacking, it's only right to play them in full:
"I've never said I'm a perfect person, nor pretended to be someone that I'm not. I've said and done things I regret, and the words released today on this more than a decade-old video are one of them. Anyone who knows me, know these words don't reflect who I am. I said it, it was wrong, and I apologize.
"I've travelled the country talking about change for America. But my travels have also changed me. I've spent time with grieving mothers who've lost their children, laid off workers whose jobs have gone to other countries, and people from all walks of life who just want a better future. I have gotten to know the great people of our country, and I've been humbled by the faith they've placed in me. I pledge to be a better man tomorrow, and will never, ever let you down.
"Let's be honest. We're living in the real world. This is nothing more than a distraction from the important issues we are facing today. We are losing our jobs, we are less safe than we were eight years ago and Washington is broken. Hillary Clinton, and her kind, have run our country into the ground.
"I've said some foolish things, but there is a big difference between words and actions. Bill Clinton has actually abused women and Hillary has bullied, attacked, shamed and intimidated his victims. We will discuss this more in the coming days. See you at the debate on Sunday."
Now the debate tomorrow at Washington University in St. Louis is a "town hall-styled" forum, where members of the audience will ask questions. Since his humbling in the first debate with Clinton, who displayed the cool that Pence showed in his face-off, Trump has suggested that he might be ready to talk about her husband's infamous infidelity -- and even suggested at one of his rallies, without any support, that Hillary too has been unfaithful to Bill.
It's difficult to imagine either Trump or Clinton opening this conversation, which means moderators Anderson Cooper of CNN and Martha Raddatz of ABC will have to find a way in. It's intriguing to imagine the conversation they're having about how that question will be phrased. Once it's out there, though, there may be no retreat to any corner of decency, no apology good enough for the 80-some million people likely to tune in.
Trump insisted in phone calls to the Washington Post and Wall Street Journal today that there is "no chance" that he will withdraw from the race, as "some people" -- words Trump loves to employ in his own unsubstantiated statements -- suggest.
Hugh Hewitt, the conservative radio commentator for the Salem Radio Network, a Harvard graduate who worked in Ronald Reagan's White House and oversaw the construction of the Richard M. Nixon Presidential Library as its executive director, took to Twitter today, a forum where Trump is fond of taunting opponents.
This is what Hewitt tweeted:
"For the benefit of the country, the party and his family, and for his own good, @realDonaldTrump should withdraw. More and worse oppo coming"
Can it really get any worse?
-- This feed and its contents are the property of The Huffington Post, and use is subject to our terms. It may be used for personal consumption, but may not be distributed on a website.
Source: Elder Care Huffington Post