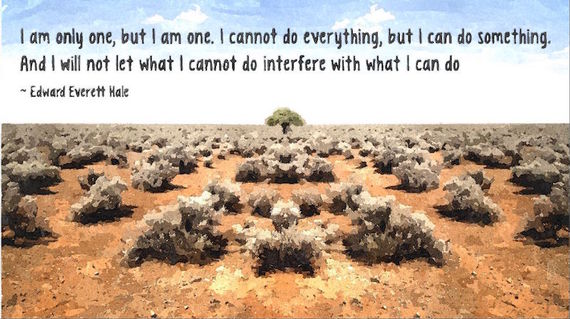 When I read about how white supremacist groups are endorsing Donald Trump and how these groups are crediting him with the increase in traffic to their websites, I feel a huge lump in my throat. Combine this with his growing poll numbers, and I feel a physical urge to cry and be sick to my stomach at the same time. I vacillate between this feeling of despair, and outrage, and a feeling of stunned numbness. Is this my country? Is there really this much hatred and willingness to blame "the other?"
I get caught in my desire to make Donald Trump be different. I want him to say different things. I want him to be respectful toward people who disagree with him. I want him to consider how his language and proposed policies impact real people with real faces, real hearts, real dreams, and real children. All of this, of course, is outside my control. And that is a blessing for me.
All of my attempts to make Donald Trump behave differently are futile. He does not know who I am, and I assume that he does not care what I have to say. Ranting, accusing, ruminating -- these accomplish nothing, but at least they make me feel terrible. So what is the alternative? The alternative is to return my focus to what is most important and what is under my control. I can take small, consistent actions. I can do my awkward, insignificant, bumbling best to increase the well-being in the world.
I can unplug from the 24 hour news cycle and engage with the world that exists within my sphere of influence. I can look at my own need to be right and hear what others have to say. I can be mindful of my own use of language. I can reach out to support those impacted by oppressive rhetoric and practices. I can stop to serve those in need when I feel too busy to do so.
My urge to change Donald Trump and my inability to do so are great reminders to put my energy where I have control -- to be kind, to be grateful, to be compassionate, to have empathy, to listen, to bring awareness to my own motivations, and to be purposeful in my actions. So, thank you Donald Trump. You may be the greatest teacher I have at the moment.
-- This feed and its contents are the property of The Huffington Post, and use is subject to our terms. It may be used for personal consumption, but may not be distributed on a website.