I am not certain when elephants became such a big deal to me. The exact moment is hard to remember -- much like the fateful day you chose your favorite color as a child. No one remembers that.
Oddly, I don't even remember the first time I saw an elephant. I'm sure I was taken to a zoo somewhere as a child but I don't remember that. I do remember watching "Dumbo" with my Nana and feeling the deepest ache in my belly. My heart cracks open just a little bit like the splitting of a pomegranate or some tough fruit when I see videos of elephants. I'm now realizing this all may be because of Walt Disney.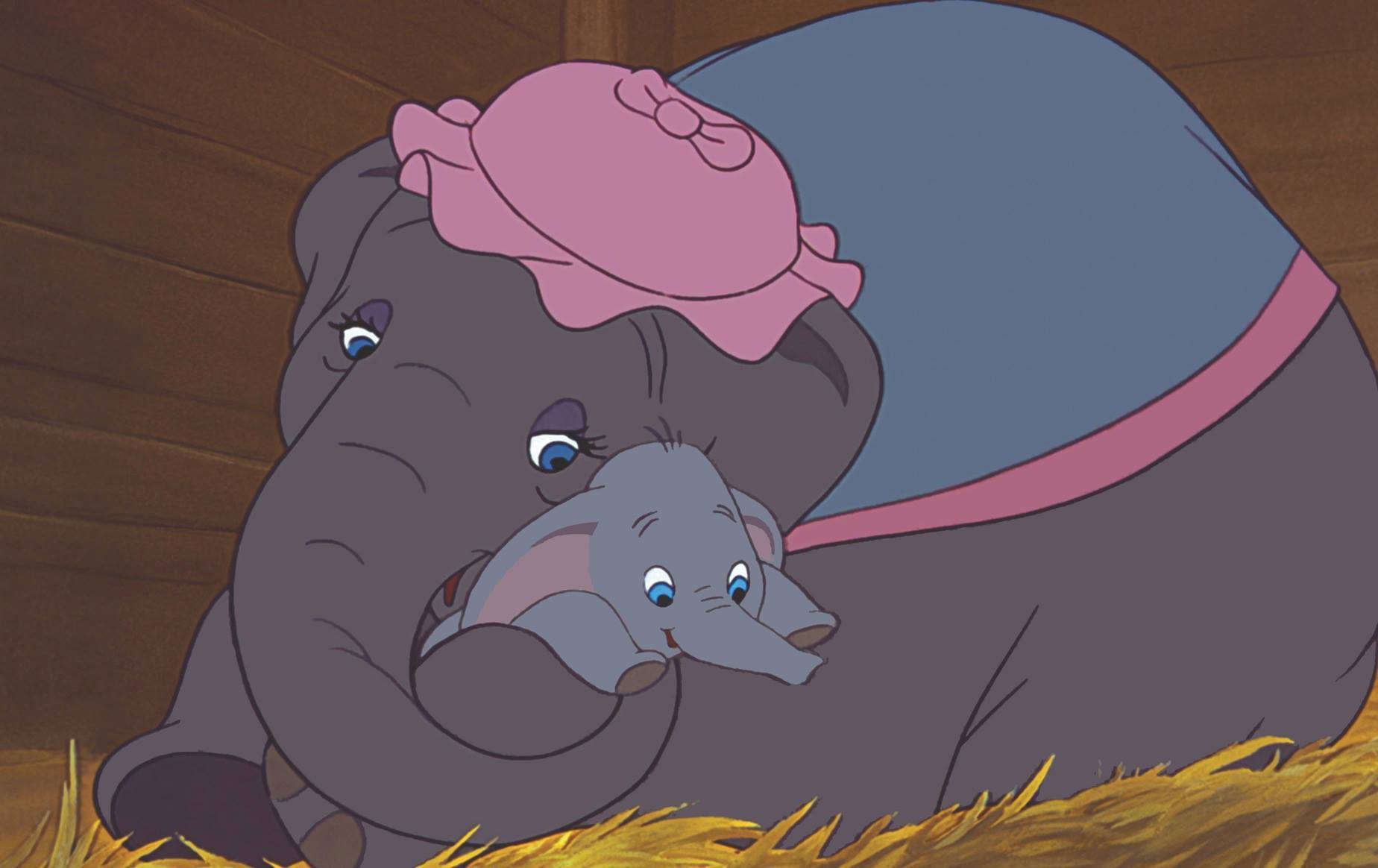 As I grew into an adult, elephants became more and more important to me. Being near one, touching one, looking up at their big fluffy eyelashes became a concrete goal. Friends traveled to Africa on safari and came home with impressive photographs. Another went to India and rode an elephant while wearing a beautiful silk sari.
When I recently planned a trip to Cambodia and Thailand, the guidebooks all warned about the dark side of elephant tourism. Lonely Planet's thick guide to Thailand has a section dedicated to safe and responsible ways to interact with elephants in the region.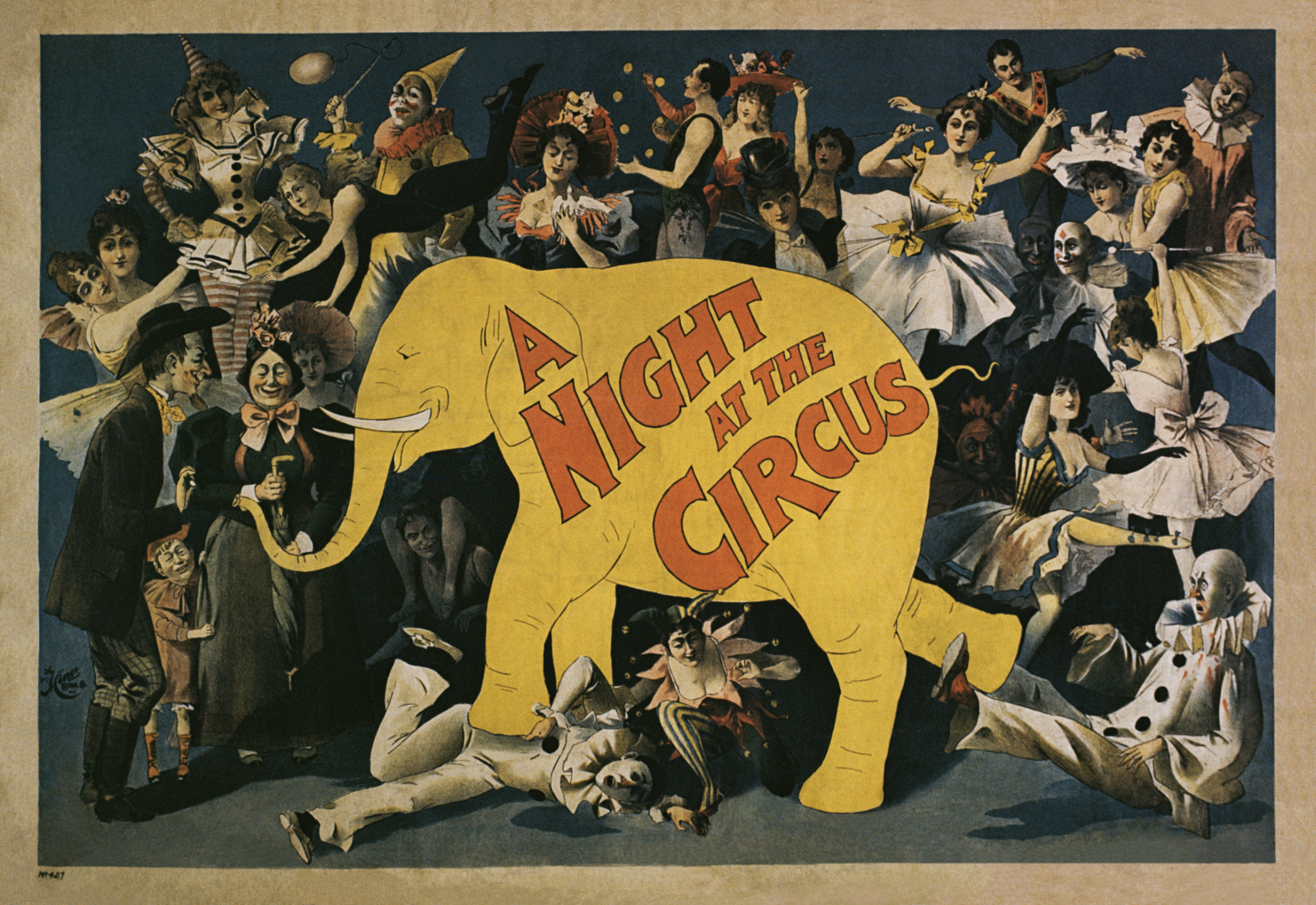 I chose Elephant Nature Park, the most revered sanctuary in northern Thailand, and signed up for their full day visit called "Pamper a Pachyderm." The 250-acre sanctuary is the only one of its kind that rescues mistreated elephants and allows them to heal and live naturally in family groups of their choosing.
The days leading up to our visit dragged on. The heat, the exhaust off the back of tuk-tuks, the jet lag. Climbing the ruins at Angkor Wat in Cambodia was impressive, but as I grew tired and potentially contracted a touch of heat stroke, I started to repeat a mantra to myself with each laborious step forward: "Ellies. Ellies. Ellies."
At night, I gazed up at the ceiling and worried that maybe my expectations had grown too high. Maybe the sanctuary was more like a glorified zoo and we would only get a few supervised minutes with the animals. Maybe the elephants were kept enclosed. Maybe they acted aloof.
The image of an aloof elephant plagued me the entire next day. How would I show the elephants that I had loved them, all of them, for so many years? Would I be able to pet them? Or maybe, worse, what if I didn't feel anything at all when I got there? Maybe in person they would seem just like any other animal and my imagined connection with them would vanish.
The journey from Siem Reap, Cambodia through Bangkok, Thailand and finally to Chiang Mai felt laced with uppers. I kept my excitement contained by taking periodic deep inhales and by drinking plenty of Thai beer. We went to bed early, ready for the 6:30AM wake up call.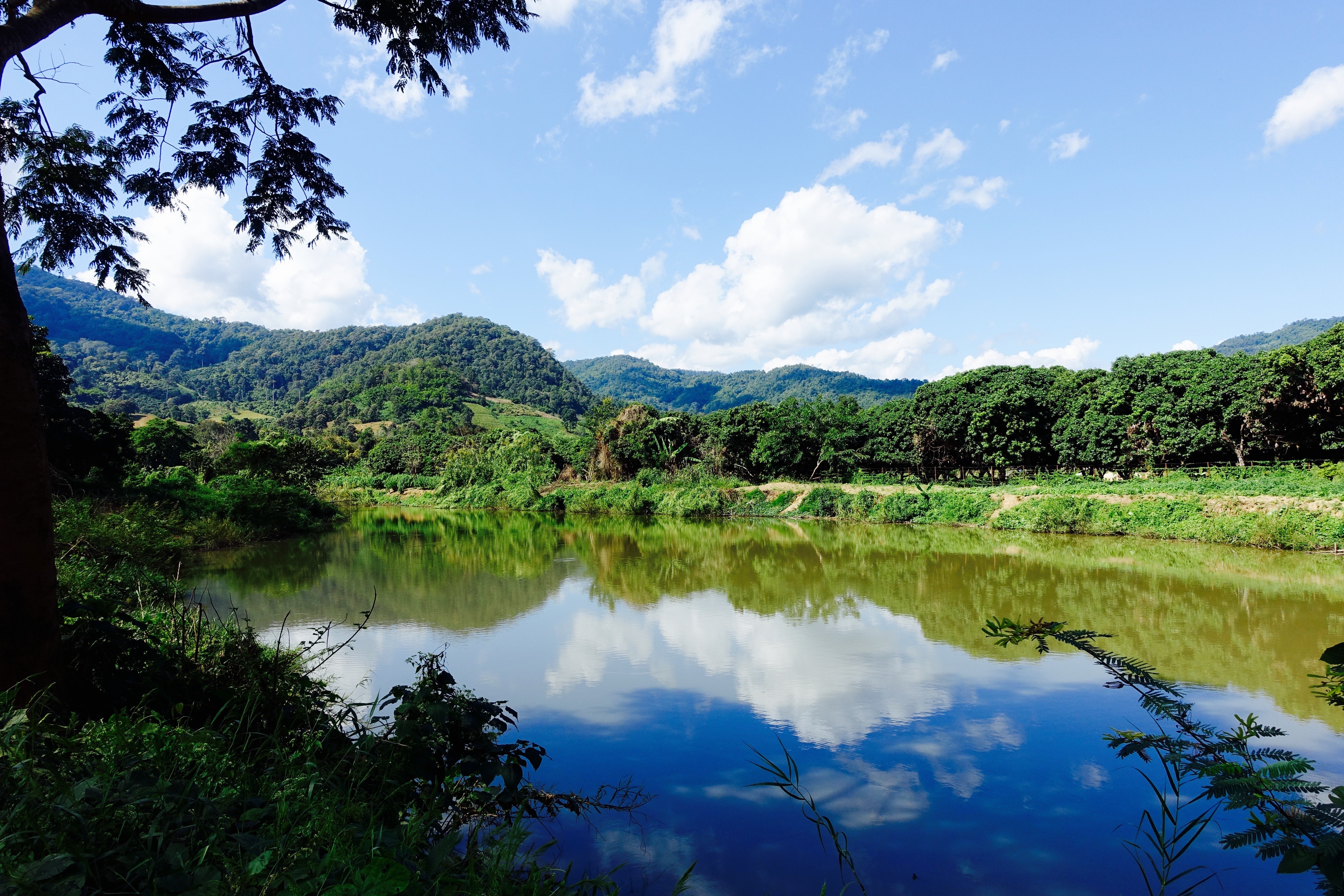 The next morning, I was giddy with excitement. Elephant Nature Park picked us up in their van and the 90-minute drive from Chiang Mai into the surrounding mountainous jungle whizzed by. We arrived at a beautiful rustic camp and were given information about how to behave with the animals.
But nothing could have prepared me for the first emotion I felt when we met the elephants.
Fear. Paralyzing fear from the crown of my skull to the arches in my feet. The park assigns small groups to the elephants, so along with our guide, it was two people to an elephant. OUR VERY OWN ELEPHANT.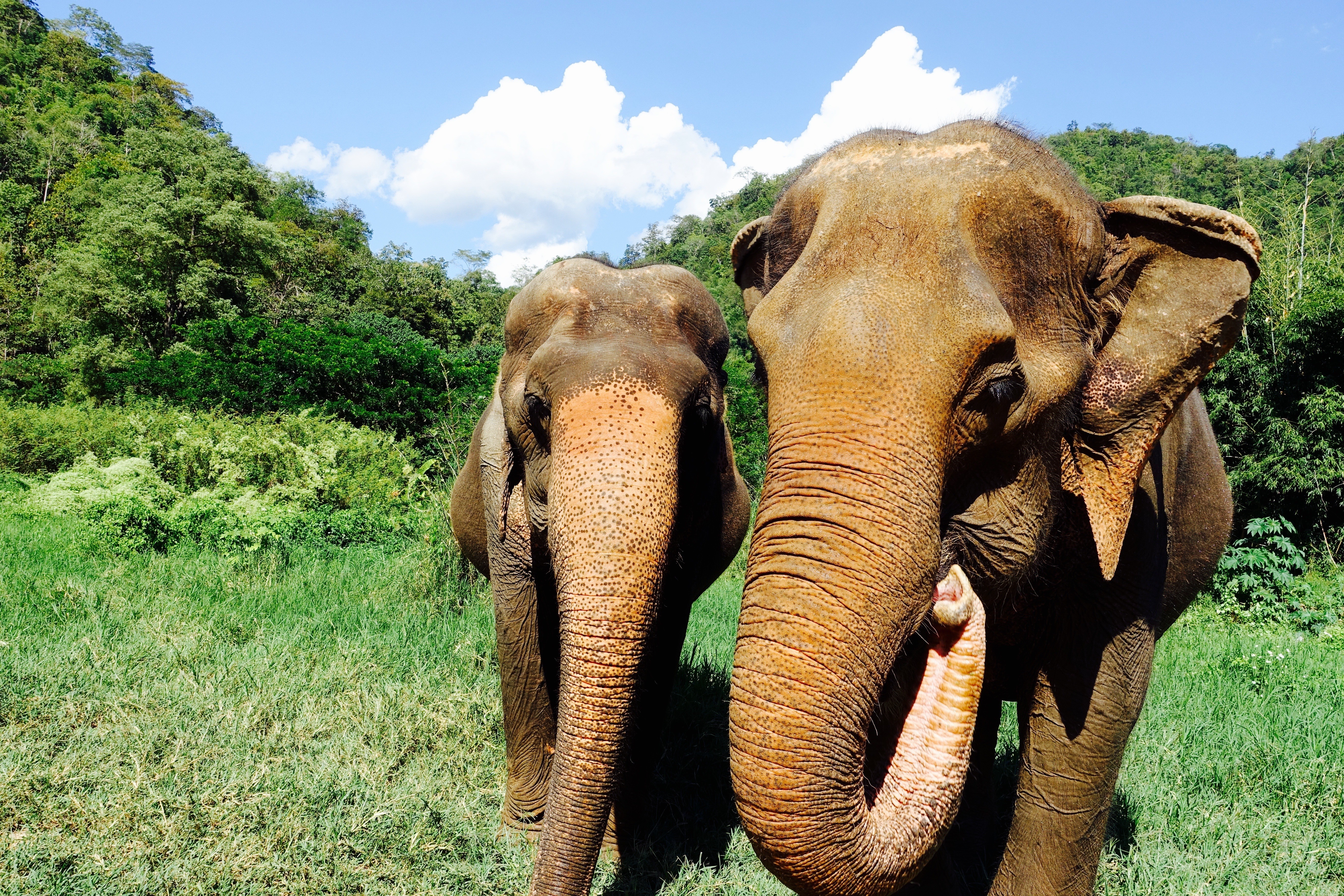 The gigantic animals came plodding towards us, ears flapping, trunks flying and went right for it. Watermelon -- their favorite snack. There was no touching your hand to their noses like you might with a new dog. It was watermelon. Now. Mouth.
They wanted two or three at a time. You pick up the sliced watermelon and place it directly into the opening in their trunk or pile them up in the crook of their trunk and they slap it quickly into their mouths. And then they're back for more. If we gave them just one watermelon at a time, they made a loud, annoyed sighing sound as if they knew you were a novice and really expected better from you.
The speed was dizzying. We used both hands to shovel the watermelon at them and my heart raced. But within minutes, we were all laughing and shrieking, completely delighted at this overwhelming, scary and fantastic interaction with the biggest animal any of us had ever met.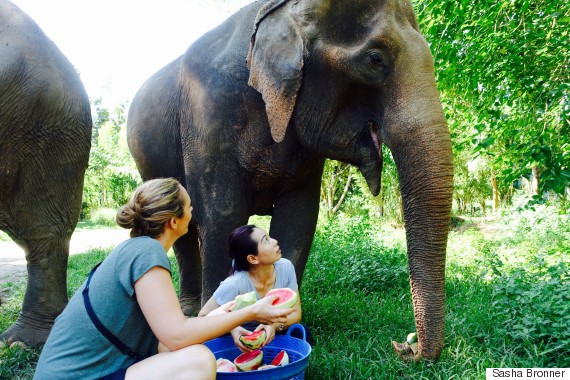 After eating, it was time to exercise. We went on a long walk through the jungle with the elephants and were given knapsacks filled with bananas to feed them along the way.
It's not up to you how or when you feed them. They come at you, gently and lovingly, but at five tons and nine feet tall, there's a certain, let's say, urgency to their movement. Best advice is keep moving and when you run out of bananas, get out of their way. Asian elephants eat close to ten percent of their body weight each day.
We took a break in our walk to let them gather near water hoses and spray themselves in a nice mid-morning shower. The temperature was close to 100 degrees Fahrenheit and the elephants are used to digging up some dirt and mud to cake over themselves to fight off the heat.
Later, after more walking and more bananas, it was time to really get the elephants cooled down in the river. We were given big water buckets and spent 15 minutes splashing water all over their huge bodies. They each parked themselves happily in front of us, their faces dunking in and out of piles of watermelon, and their tails wagging with what looked like joy, as we splashed and dumped water all over their bodies until our arms ached.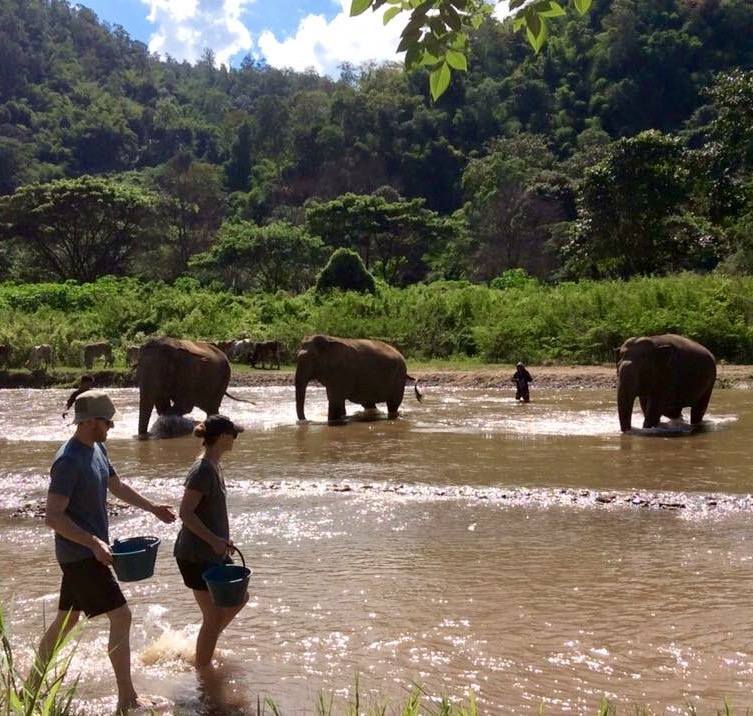 We walked around the huge sanctuary with our elephant family and learned so much about the animals. We heard all of their stories -- from the elephant with a deformed leg from a landmine explosion (he constantly rocks his leg back and forth), to the oldest elephant in the park, a 78-year-old who has trouble walking down to the river or eating food on his own. He has a human aide with him at all times to help.
There is a blind elephant that had been horribly mistreated before he was rescued. When his family herd migrated down to the river to bathe again, they all let out a 30-second screeching scream, which we later learned was their call to him to join them for bath time. He took his time. But not elephants at the sanctuary are injured. Many have lived there for years and have experienced full recoveries.
The baby in the park, a two-year-old, stayed close to his mom in the river but was rambunctious enough that the park guides have nicknamed him Naughty Baby. We were told that if he came running towards us to MOVE. Quickly.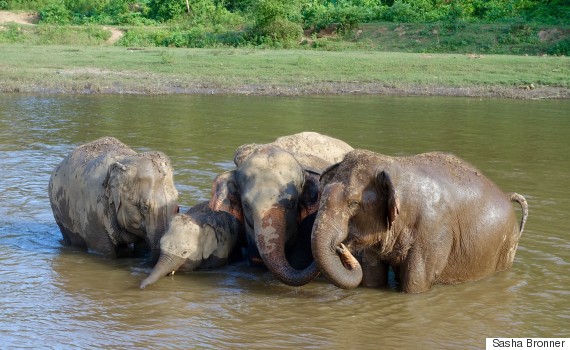 We also learned that when a baby is born, the mother breastfeeds for four years, but her best friend actually takes care of the baby. Elephants have a nanny system. Does anyone know this? When the nanny has her own baby, the best friend steps in to return the favor.
As the afternoon drew to a close, I realized that I had grown used to piling four bananas in my hand at once and holding them out to the open mouth of our elephant. We walked more slowly together and took the scenery in -- their sounds no longer feeling scary, but feeling more like the familiar sigh of relative from across the room.
I looked around at the open hills and valleys of the park and imagined all of the rooms, crates or pens that these elephants had called home before. Today they wake up to running rivers, grass and trees and are never forced to carry a human on their backs or stand up on two legs again.
People have asked if I am disappointed that I didn't get to ride an elephant while I was in Thailand. I smile and say no and picture watermelon juice running down the back of my hands, dirt all over my knees and droplets of water collecting on the elephants' eyelashes as they swayed happily in the river. I remember my heart feeling fuller than it maybe ever has before.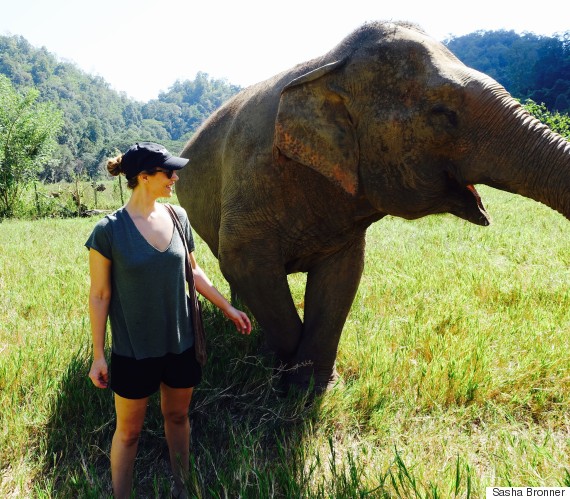 Click here to learn more about Elephant Nature Park in Thailand, Cambodia and Myanmar.
-- This feed and its contents are the property of The Huffington Post, and use is subject to our terms. It may be used for personal consumption, but may not be distributed on a website.